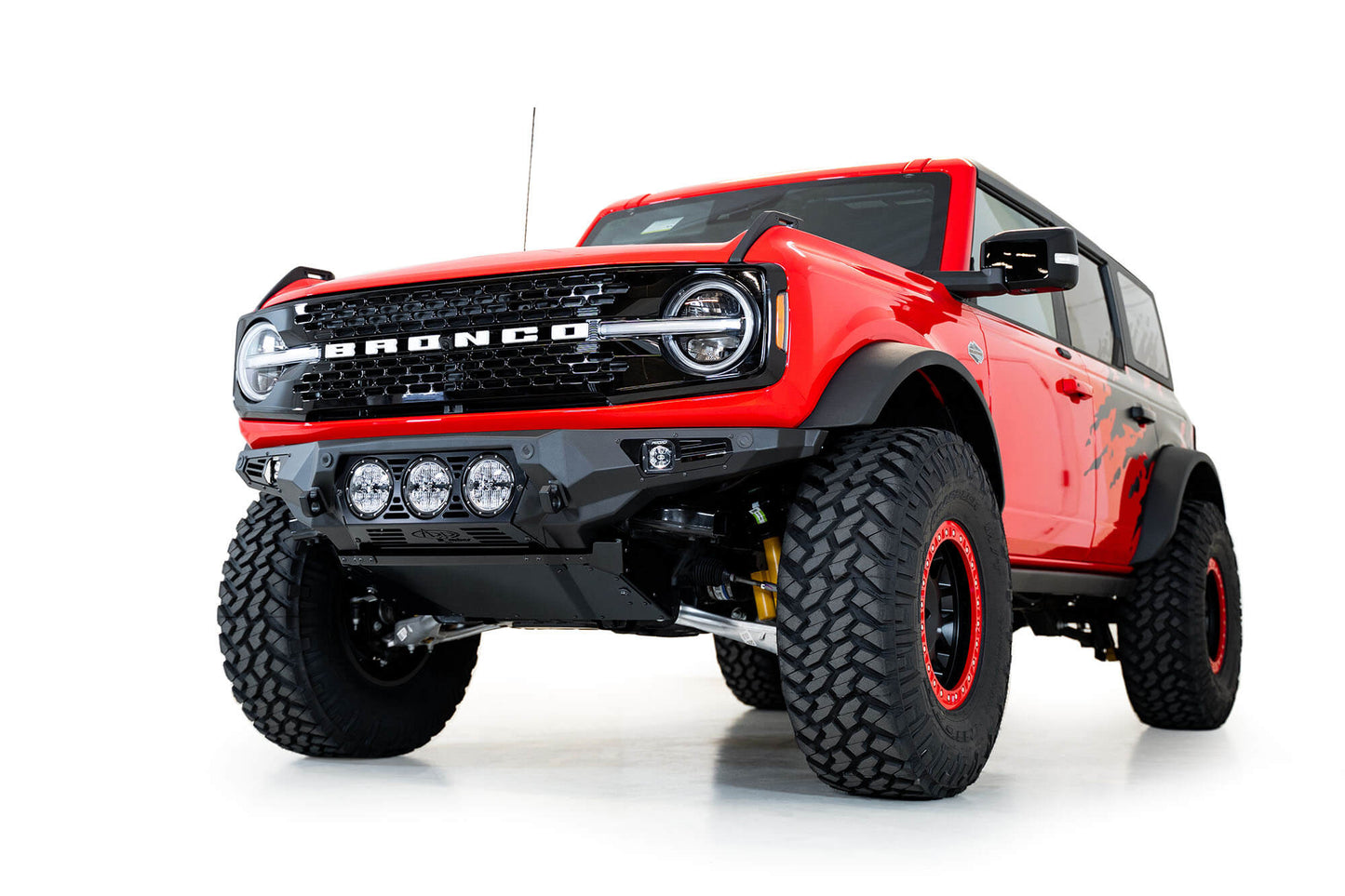 Rule the Off-Road Realm!
ADD Bomber Front Bumper (Rigid) | 2021-2023 Ford Bronco
The Bomber is a tight fitting front bumper for the new Bronco, that follows the contours of the body perfectly. At the center of the bumper, is a satin black aluminum panel that frames 3 mounting points for Rigid 360 6-inch lights (also available with Baja Designs Lighting.
At the sides of the bumper are mounting points for cube lights, framed by satin black aluminum panels. The Bomber is constructed from modern plate steel, finished in a hammer black powder coat.
The aluminum panels are finished in a satin black powder coat. The approach angle of the Bomber is improved over the factory bumper, and provides higher clearance. The OEM parking sensors are incorporated into the design of the bumper.
There are 2 heavily reinforced clevis mounts that accept soft shackles for recovery options. We offer an optional 3/16-inch vented aluminum skid plate that provides superior protection over the factory plastic skid plate.
An Adaptive Cruise Control Relocation Bracket is also available, which allows you to retain full functionality of the feature. As always, this is fully bolt-on and Made in America.
Installation
Modern plate steel design
Optional full 3/16" aluminum skid plate
OEM Skid Plate Will Fit (Trimming Required)
Optional adaptive cruise control bracket
Mounts for 3 Rigid 360 6" lights
Side mounts for 2 cube lights
Reinforced Clevis Mounts Accept Soft Shackles
Retains OEM parking sensors
Fully bolt-on
Made in America