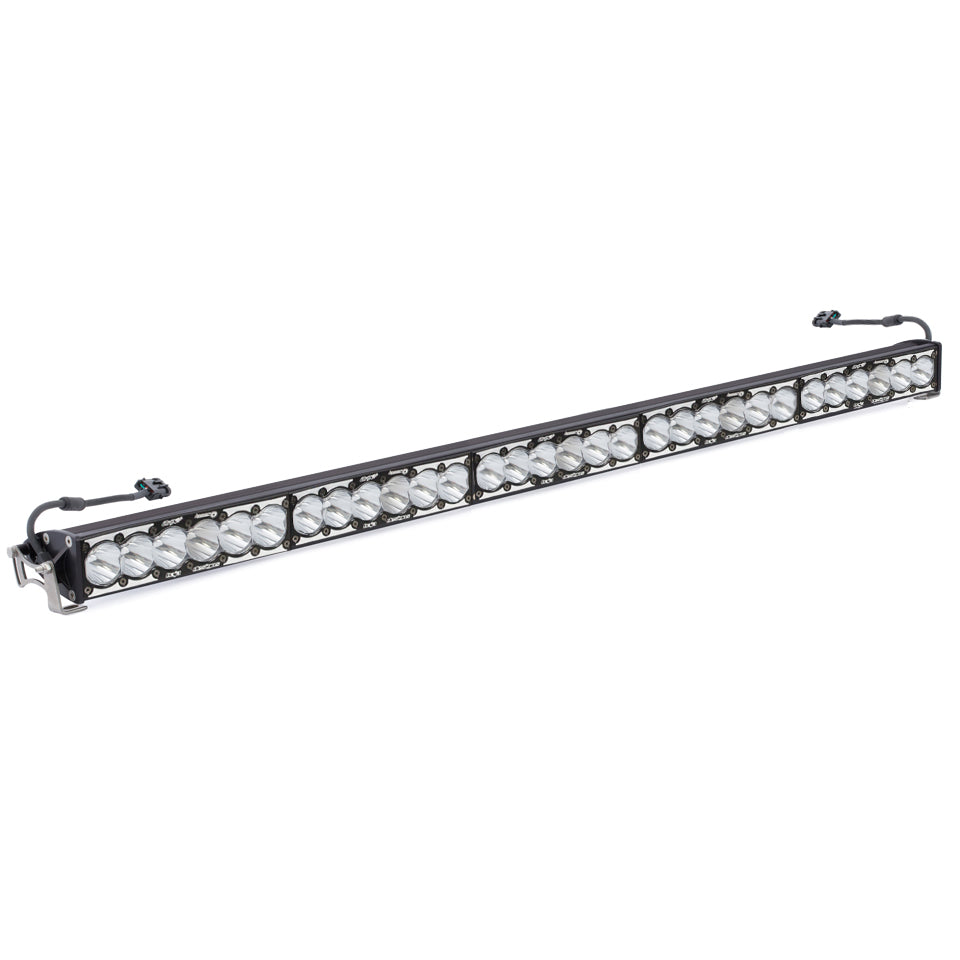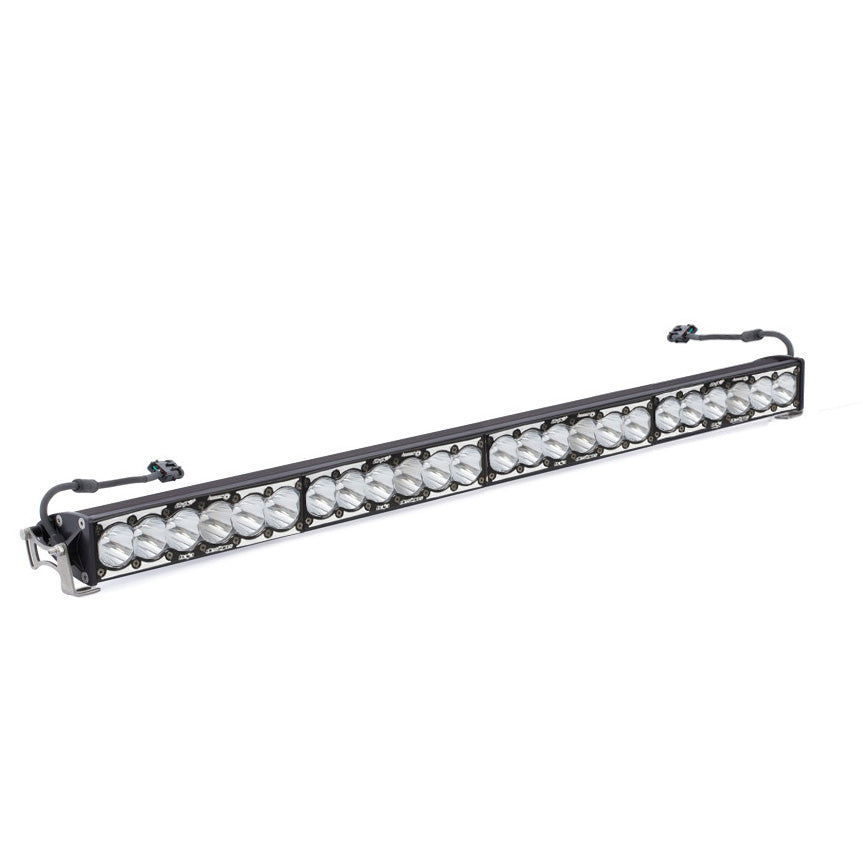 Illuminate Every Moment
Baja Designs OnX6 Universal Full Laser Dual Control Light Bar
The new Baja Designs Laser Light series is at the pinnacle of distance lighting. The Laser Light is capable of throwing light 350 percent farther than our current OnX6 plus Light Bar.

This light exclusively features laser technology in order to achieve a higher intensity of distance light. This light features a 1.5 degree pattern allowing for the light to reach distances that are untouchable by any LED or HID platform.

| | |
| --- | --- |
| Satisfaction Guarantee | 30-Day Money Back Guarantee |
| Limited Lifetime Warranty | Complete Purchase Protection |
| uService | Replaceable Lenses And Optics |
| ClearView | All The Light, Right Where You Need It |
| MoistureBlock | Waterproof, Rain Proof, Submersible |
| CopperDrive | Only LED Driven At 100 Percent |
| 5000K Daylight | Less Driver Fatigue, Natural Color |
 

VEHICLE LIGHTING ZONES
The needs of every off-roader are different, so we've created a Lighting Zone system to help you mix and match the right products, with the right lenses, in the right places to achieve the absolute best results.
Learn more about each zone's placement, power, and pattern.
Dimensions

| | |
| --- | --- |
| Depth (in.) | 4.290 |
| Height (in.) | 2.690 |
| Length (in.) | 50/40/30/20/10 |
| Weight (lbs.) | 18.650 |
 
Disclaimer and Warning
Disclaimer
Buyer is responsible for ensuring that it uses the products (and its vehicle) in accordance with all applicable laws, regulations, guidelines, and standards of care. Buyer acknowledges that some products may only be used when off-roading, and buyer will comply with all vehicle and road safety guidelines.
Buyer is solely responsible for (and will indemnify and hold Bestop harmless for) any claims, losses, damages, fines, fees, costs, or other amounts arising out of Buyer's non-compliance with these provisions.

Baja Designs California Proposition 65
Standards & Compliance
| | |
| --- | --- |
| Standards/Compliance (Durability) | Exceeds MIL-STD810G (Mil-Spec Testing) |
| Standards/Compliance (Impact Resistance) | IK10 Compliant (Mechanical Impact Testing) |
| Standards/Compliance (Water Resistance) | IP69K (Waterproof up to 9ft & Pressure Washable) |
OnX6 50 Inch Racer Edition Laser Light Bar
| | |
| --- | --- |
| Amperage Rating (A) | 6.500 |
| Average Rated Life (hr.) | 49,930 |
| Beam Pattern | Laser Spot |
| Bezel Material | Billet Machined Aluminum |
| Brightness (Lumens) | 3000 |
| Description | Laser Spot; Clear |
| Housing Color | Black |
| Housing Material | Aircraft Grade Aluminum with Mil-Spec Hard Anodize |
| Lens Color | Clear |
| Lens Material | Hardcoated Polycarbonate |
| Light Quantity | 1 |
| Lighting Modes | Beam |
| Lighting Quantity | 30 |
| Lighting Technology | Laser |
| Lighting Type | Forward Projecting |
| Mounting Hardware Included | Yes |
| Mounting Hardware Material | Stainless Steel |
| Overvoltage Protection | Built-In |
| Product Type | OnX6 50 Inch Racer Edition Laser Light Bar |
| Universal or Specific | Universal |
| Wattage (W) | 89.700 |
| Wiring Harness Included | No |
OnX6 40 Inch Racer Edition Laser Light Bar
| | |
| --- | --- |
| Amperage Rating (A) | 6.500 |
| Average Rated Life (hr.) | 49,930 |
| Beam Pattern | Laser Spot |
| Bezel Material | Billet Machined Aluminum |
| Brightness (Lumens) | 3000 |
| Description | Laser Spot; Clear |
| Housing Color | Black |
| Housing Material | Aircraft Grade Aluminum with Mil-Spec Hard Anodize |
| Lens Color | Clear |
| Lens Material | Hardcoated Polycarbonate |
| Light Quantity | 1 |
| Lighting Modes | Beam |
| Lighting Quantity | 24 |
| Lighting Technology | Laser |
| Lighting Type | Forward Projecting |
| Mounting Hardware Included | Yes |
| Mounting Hardware Material | Stainless Steel |
| Overvoltage Protection | Built-In |
| Product Type | OnX6 40 Inch Racer Edition Laser Light Bar |
| Universal or Specific | Universal |
| Wattage (W) | 89.700 |
| Wiring Harness Included | No |
OnX6 30 Inch Racer Edition Laser Light Bar
| | |
| --- | --- |
| Amperage Rating (A) | 6.500 |
| Average Rated Life (hr.) | 49,930 |
| Beam Pattern | Laser Spot |
| Bezel Material | Billet Machined Aluminum |
| Brightness (Lumens) | 3000 |
| Description | Laser Spot; Clear |
| Housing Color | Black |
| Housing Material | Aircraft Grade Aluminum with Mil-Spec Hard Anodize |
| Lens Color | Clear |
| Lens Material | Hardcoated Polycarbonate |
| Light Quantity | 1 |
| Lighting Modes | Beam |
| Lighting Quantity | 18 |
| Lighting Technology | Laser |
| Lighting Type | Forward Projecting |
| Mounting Hardware Included | Yes |
| Mounting Hardware Material | Stainless Steel |
| Overvoltage Protection | Built-In |
| Product Type | OnX6 30 Inch Racer Edition Laser Light Bar |
| Universal or Specific | Universal |
| Wattage (W) | 89.700 |
| Wiring Harness Included | No |
OnX6 20 Inch Racer Edition Laser Light Bar
| | |
| --- | --- |
| Amperage Rating (A) | 6.500 |
| Average Rated Life (hr.) | 49,930 |
| Beam Pattern | Laser Spot |
| Bezel Material | Billet Machined Aluminum |
| Brightness (Lumens) | 3000 |
| Description | Laser Spot; Clear |
| Housing Color | Black |
| Housing Material | Aircraft Grade Aluminum with Mil-Spec Hard Anodize |
| Lens Color | Clear |
| Lens Material | Hardcoated Polycarbonate |
| Light Quantity | 1 |
| Lighting Modes | Beam |
| Lighting Quantity | 18 |
| Lighting Technology | Laser |
| Lighting Type | Forward Projecting |
| Mounting Hardware Included | Yes |
| Mounting Hardware Material | Stainless Steel |
| Overvoltage Protection | Built-In |
| Product Type | OnX6 30 Inch Racer Edition Laser Light Bar |
| Universal or Specific | Universal |
| Wattage (W) | 89.700 |
| Wiring Harness Included | No |
OnX6 10 Inch Racer Edition Laser Light Bar
| | |
| --- | --- |
| Amperage Rating (A) | 6.500 |
| Average Rated Life (hr.) | 49,930 |
| Beam Pattern | Laser Spot |
| Bezel Material | Billet Machined Aluminum |
| Brightness (Lumens) | 3000 |
| Description | Laser Spot; Clear |
| Housing Color | Black |
| Housing Material | Aircraft Grade Aluminum with Mil-Spec Hard Anodize |
| Lens Color | Clear |
| Lens Material | Hardcoated Polycarbonate |
| Light Quantity | 1 |
| Lighting Modes | Beam |
| Lighting Quantity | 12 |
| Lighting Technology | Laser |
| Lighting Type | Forward Projecting |
| Mounting Hardware Included | Yes |
| Mounting Hardware Material | Stainless Steel |
| Overvoltage Protection | Built-In |
| Product Type | OnX6 20 Inch Racer Edition Laser Light Bar |
| Universal or Specific | Universal |
| Wattage (W) | 89.700 |
| Wiring Harness Included | No |