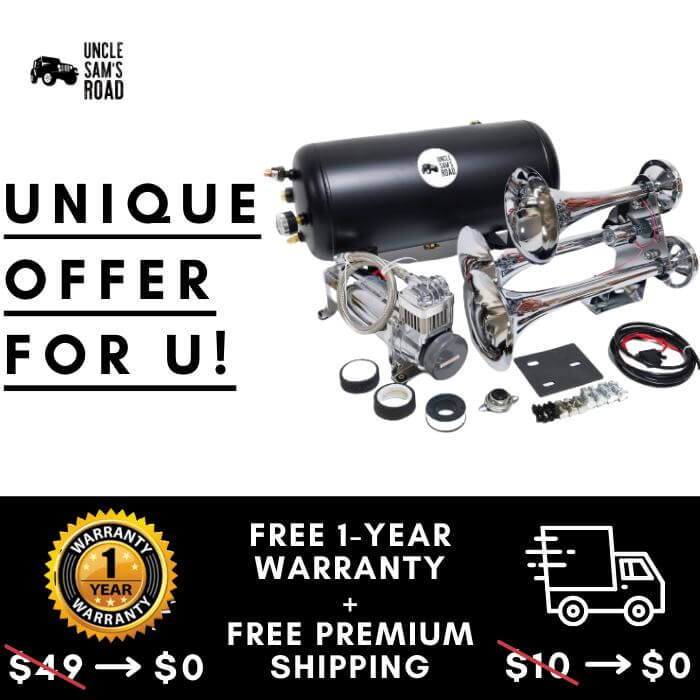 *FREE 1-year warranty + FREE Premium Shipping included in this product*
Hear the Hurricane Train Horn
Overview

Mother of God!!! What was that? It's the Hurricane motherf*****!!!
Be Lame no more with the Hurricane 5 Gal Train Horn Kit which will absolutely make you stand out anywhere you go. This is the go-to entry-level kit for many of our customers who want to get some serious Train Horn Kit to scare people to death or simply feel like the king of the road whenever they ignite the engine. This 3-chime horn comes in a beautiful black finish and the sound will stop everyone dead on their tracks! 
Our Hurricane 5Gal Train Horn Kit proves that you don't need to break the bank to bruise some eardrums. Our Hurricane Train Horn unleashes the beast hidden within your ride. It will sure clear out anyone in your path. You will definitely  get the massive tone you want and deserve without the huge horn with this compact three-chime beast.
So what do you get with the Hurricane Train Horn? The most powerful onboard air system we offer with it, our 5Gal On Board Air Source Unit which will easily power your Hurricane Train Horn through anything. Our 5Gal Air source unit can easily support you on other pneumatic task that may come across such as tire inflation. Our 5Gal Air Source will supply enough air to give your Hurricane Train Horn a stunning 10 second blast time and will recharge the 5-gallon tank in minutes. As with all our kits, our Hurricane 5Gal Train Horn Kit comes complete with all required components and detailed instructions.
(Note: Tank mounted air compressors are not fully sealed. For this reason, the manufacturer recommends the tank/compressor system be mounted in the upright position in an enclosed space away from moisture, dirt, debris, etc... Failure to mount this product as directed will void the warranty)
Technical Specifications:
Air Compressor (USR C4)

Hurricane Train Horn
5GAL Air Tank


Color: Chrome
Material: Metal
Size: 11in x 3.9in x 6.5in
Voltage: 12V
Amperage Draw: 23A
Max Working Pressure: 200 PSI
Working Pressure: 170-200 PSI
Flow Rate: 1.76 CFM

Color: Black or Chrome




Material: Metal




Decibel: +150DB




Voltage: 12V




Size: 11.4/13.4/15.7in x 11.5in x 11in

Color: Black




Capacity: 5 Gallon (19L)




Max Working Pressure: 200 PSI




Working Pressure: 180 PSI




Total Ports: 5




Size: 21in x 8.6in x 11in
Package Includes:
1 x Hurricane Train Horn
1 x 5GAL Air Tank
1 x USR C4 Compressor
1 x Air Pressure Gauge
1 x Pressure Switch
1 x Safety Valve
1 x Wing Style Drain Valve
5 x Hex Head Male Plug
1 x OD Nylon Plastic Hose
1 x Fuse
1 x Thread Sealant Tape

1 x Rubber Ring
4 x Screws(Big)
4 x Screws (Small)
2 x Screws (Mini)
4 x Nut (Big)
4 x Nut (Small)
4 x Nut (Mini)
4 x Gaskets (Big)
8 x Gaskets (Small)
4 x Small Accessories
Where to Install (Pickup truck, 4x4, SUV...)