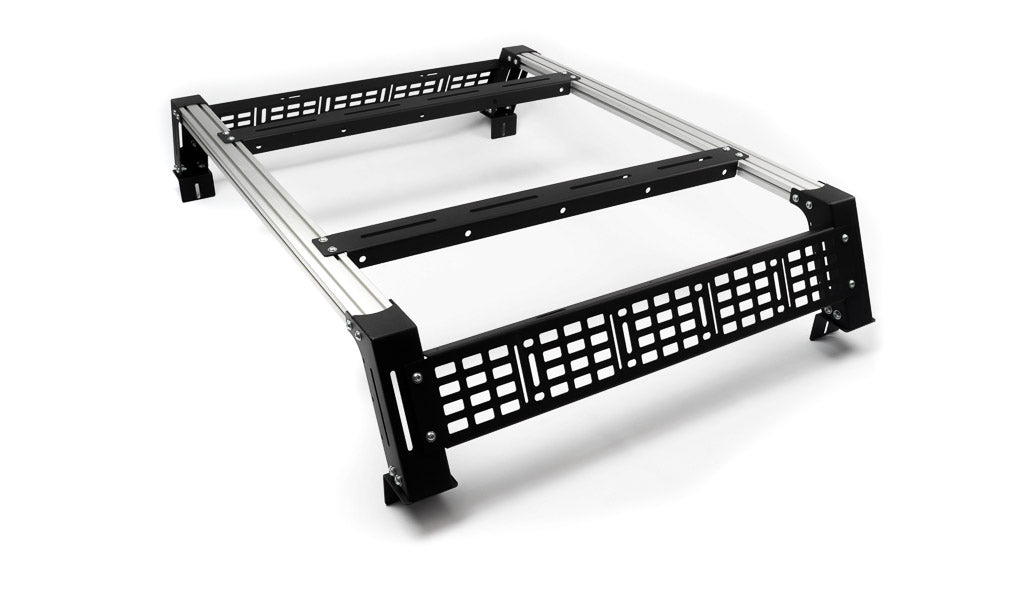 Elevate Your Adventures!
Cali Raised Overland Bed Rack | 2014-2022 Chevy Colorado
Show up ready for anything with this Cali Raised LED Overland bed rack system for all 2014 to 2022 Chevy Colorado. Engineered by American designers and laser cut here in the USA, this bed rack is press broke and welded to perfection, providing a seamless fit without sacrificing quality.
To protect from corrosion, these are professionally powder-coated in a durable black semi-gloss mini texture to defend against damage and corrosion. With 80% of the construction being aluminum, this translates into a lightweight, incredibly sturdy, and low maintenance.
Choose from our different height options and bed lengths!
- 7" - Short
- 10" - Mid
- 17.5" - Tall
The added payload means you can mount your Roof Top Tent, Rotopax, tools, recovery gear, and more. It also utilizes our unique T-slot design, allowing for endless mounting possibilities.
INSTALLATION INSTRUCTIONS
IMPORTANT NOTES
This product was designed to specifically fit the 2012-2021 Chevy Colorado. We cannot guarantee fitment on any other products unless otherwise specified.

Includes hardware for installation.
WEIGHT LIMIT
Approximate weight capacity ~1,100lbs
Running the simulation for 1000lbs on a 53" extrusion supported on each end. Our bed rack mounts them in the Deflection Y configuration. This is 1000lbs applied to a single bar at the weakest point in the center and it shows a deflection of 0.195" and no failure.
We do not have a full analysis of our bed rack ran through a simulation at this time, however, you can see that our rack can handle quite a bit of weight. Many customers run a large RTT up top with hi lifts or gas or recovery boards along the sides along with 360 degrees of lighting.
WARRANTY
Cali Raised LED provides a 2-year warranty on all our products. Limited warranty on third party products, contact us directly for details.
Features
Easy to install. Read the Installation Instructions.
Powder-coated with a durable black semi-gloss mini texture.
Rated to exceed the weight limits of nearly any tent on the market.
Lightweight (only weighs 55lbs).
Varying Height Options Available.