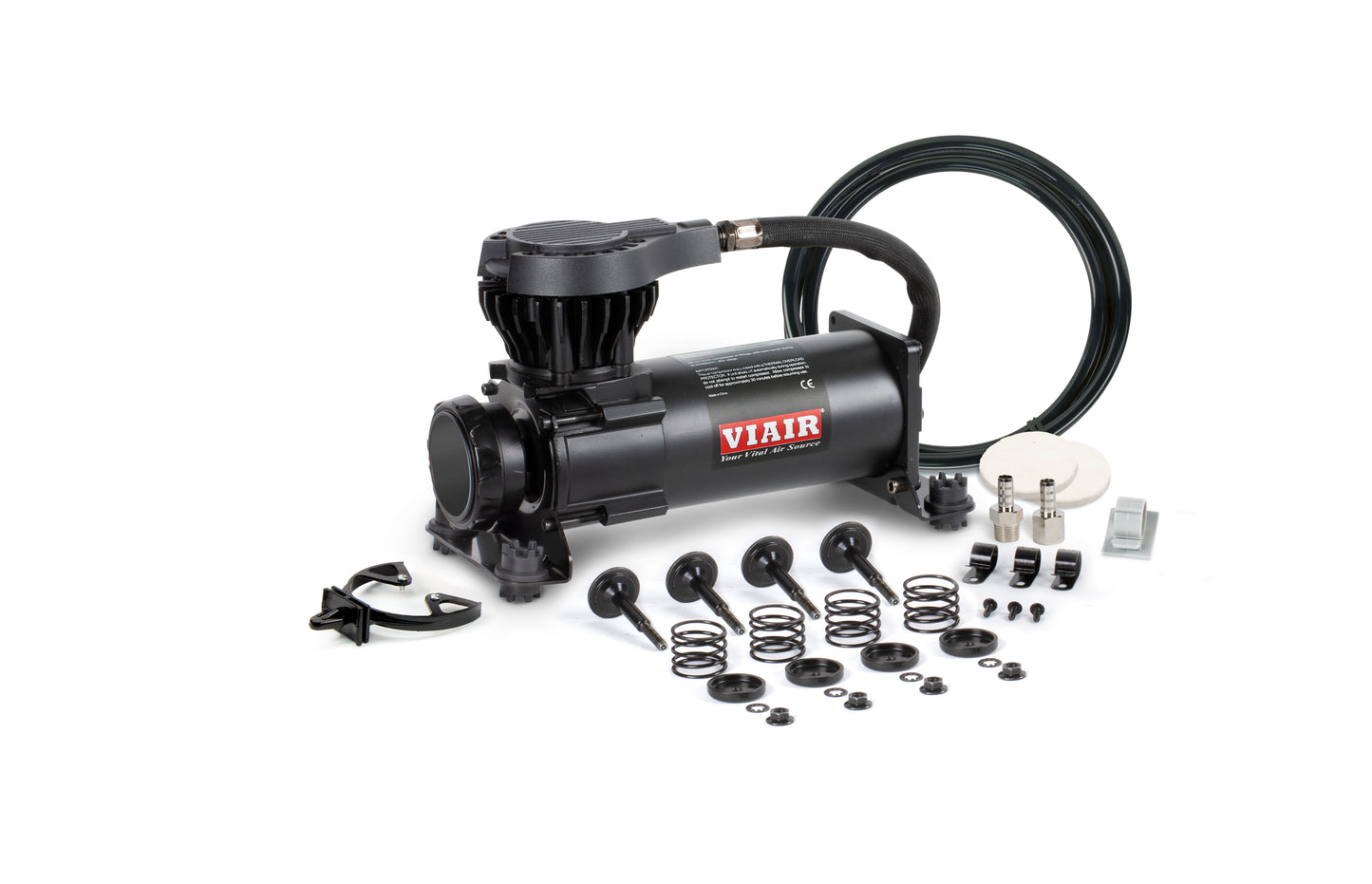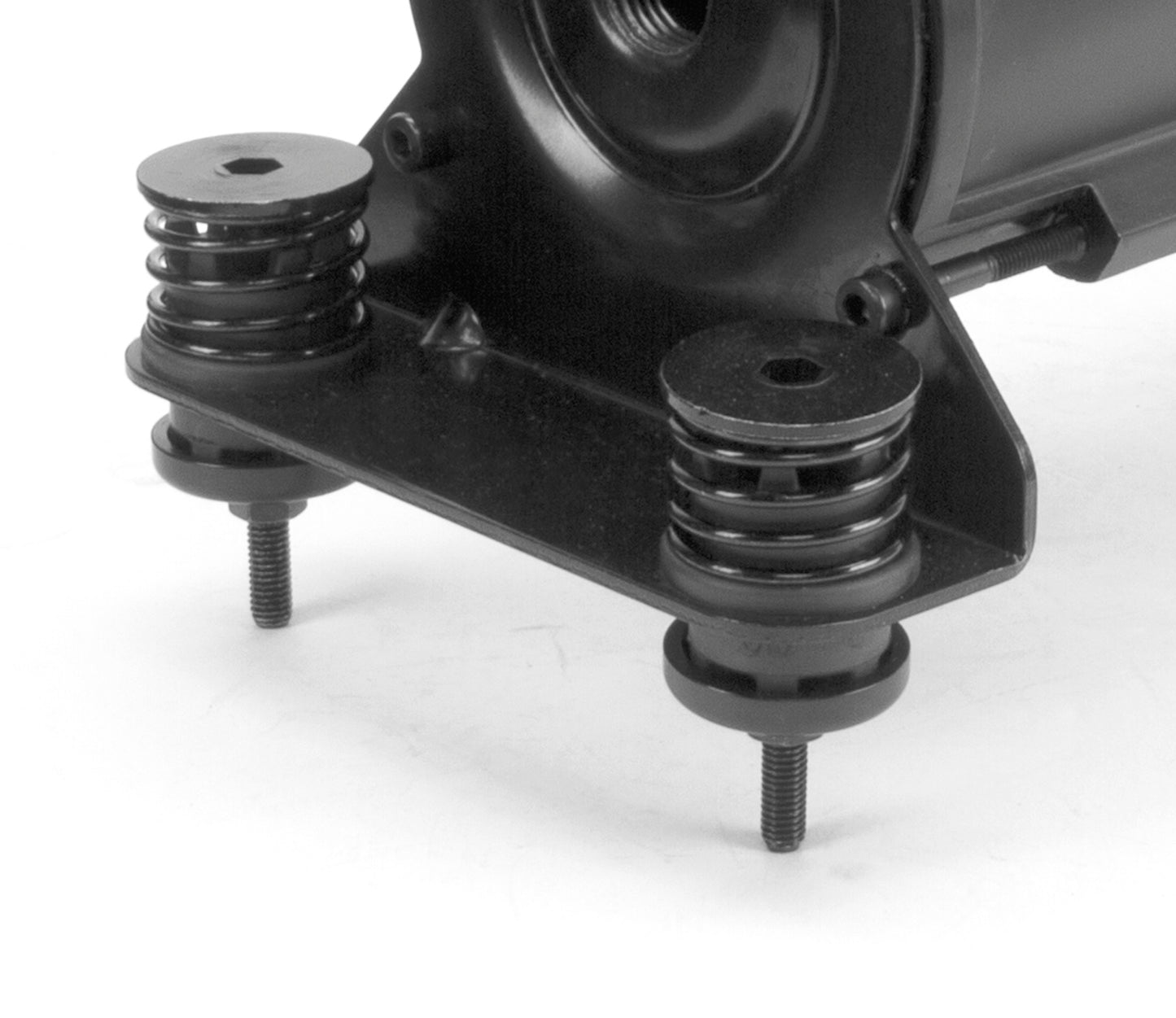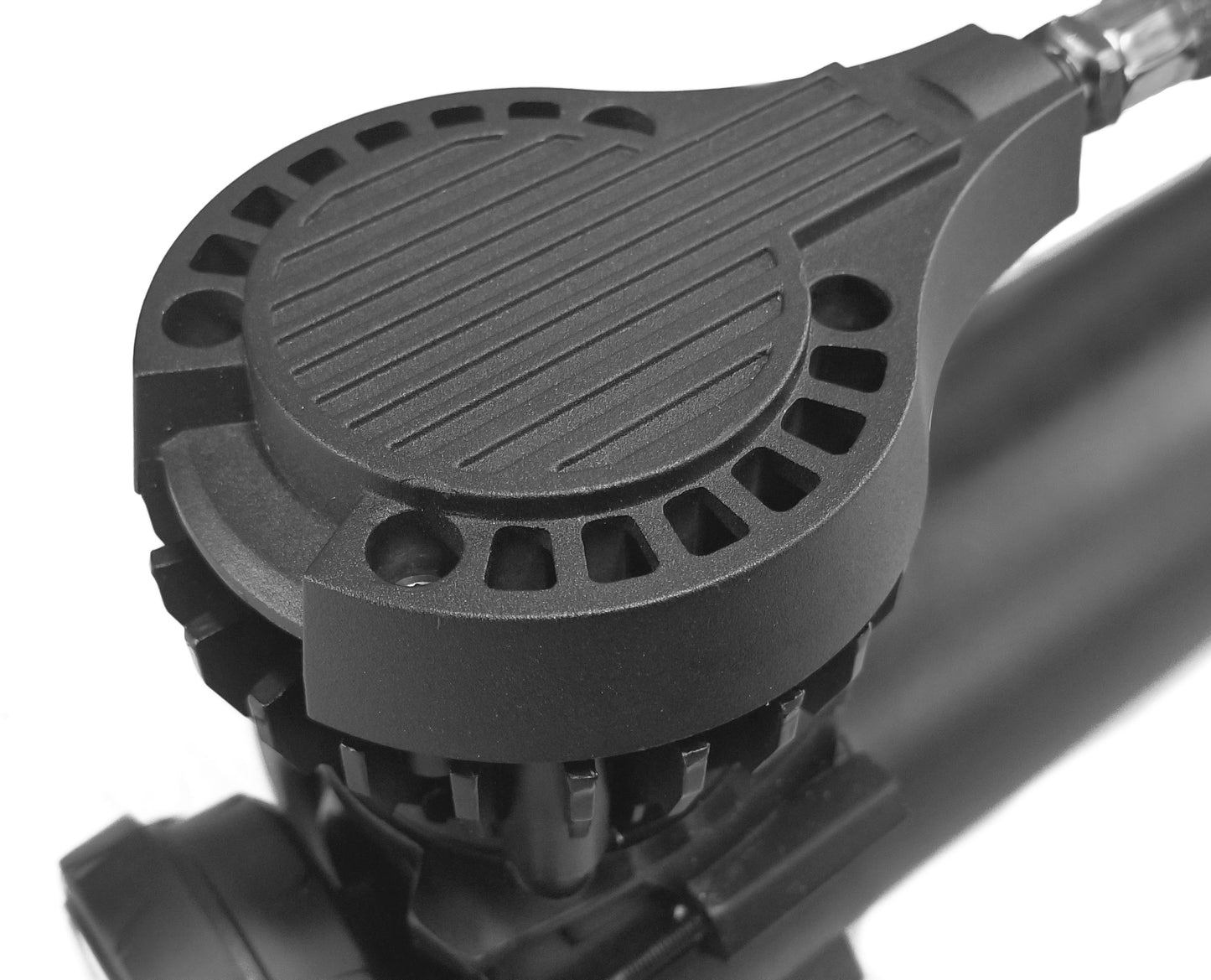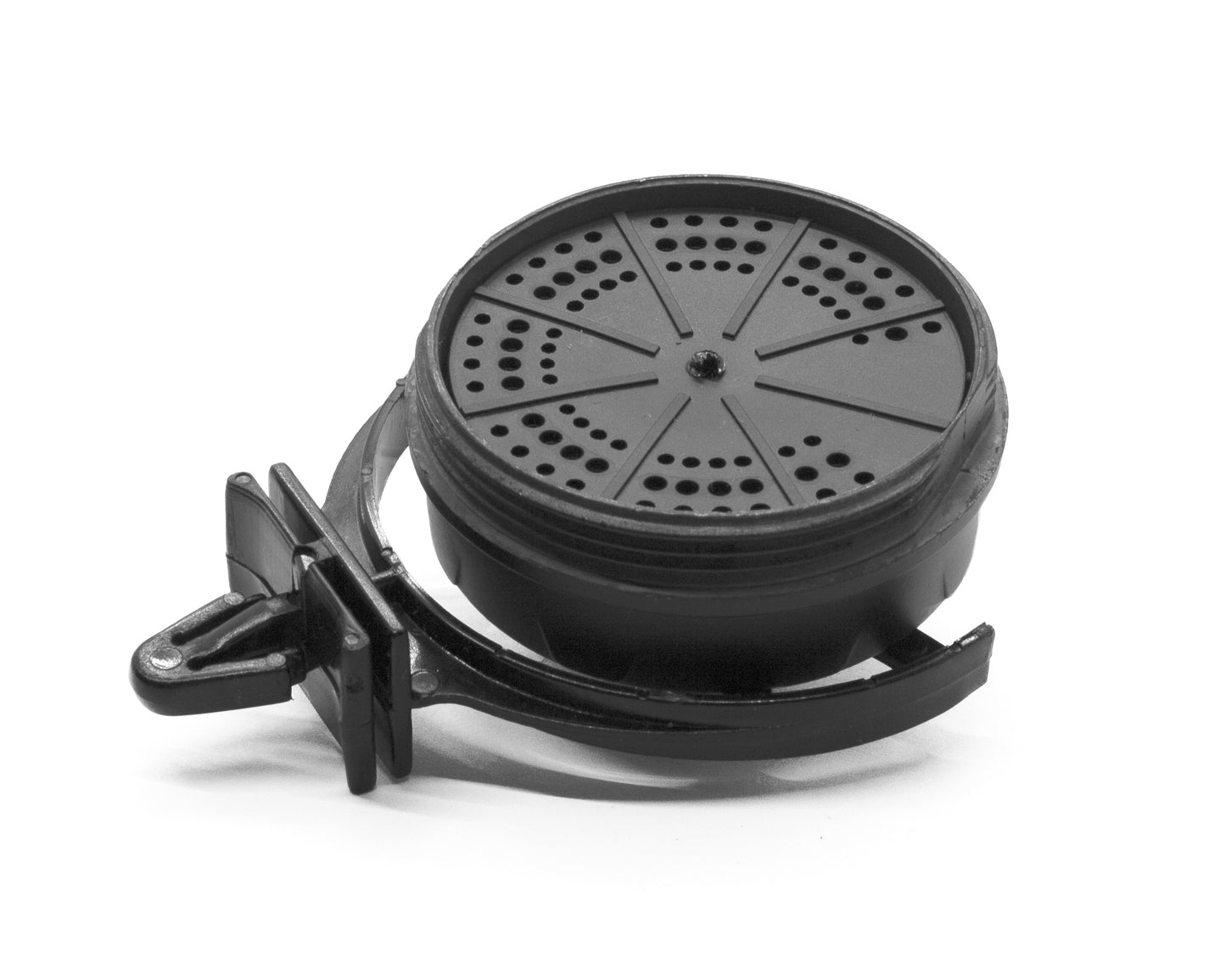 VIAIR's all-new 310 Stealth-Series (SS) compressors feature upgraded internals, a newly developed head and a new metal filter assembly with internally integrated muffler, reducing audible noise levels by up to 50% when compared to our other comparable compressors*. Additionally, the 310 Stealth-Series compressors are RoHS/REACH certified and equipped with newly designed spring-loaded vibration isolators, black sleeved stainless steel leader hose and black nickel plated check valves that eliminate the possibility of high amperage restarts.
FEATURES
– Thermal Overload Protector
– Check Valve
– Spring Loaded Vibration Isolating Feet
– Mounting Hardware
– Stainless Steel Braided Leader Hose
– Air Line for Remote Mount Air Filter
– Remote Mount 6-Stage Air Filter/Muffler Assembly
– (2) Replacement Air Filter Elements
– Installation Instructions

SPECIFICATIONS
– 12-Volt
– Permanent Magnetic Motor
– Duty Cycle: 100% @ 100 PSI
– Duty Cycle: 50% @ 200 PSI
– Max. Working Pressure: 200 PSI
– Max. Air Tank Size: 5.0 Gallon
– Max. 12V Amp Draw: 23-Amps
– Ingress Protection Rating: IP67
– Dimensions: 10.7″L x 4.4″W x 7.3″H
– Net Weight: 9.75 lbs.

RECOMMENDED COMPONENTS
– 2.5 Gallon Tank (P/N 91028)
– All Pressure Switches
– All Pressure Switches w/ Relays
– All Sealed Pressure Switches

PERFORMANCE DATA
| | | | | | |
| --- | --- | --- | --- | --- | --- |
| PSI | CFM | A | BAR | LPM | A |
| 0 | 1.46 | 13 | 0 | 41.0 | 13 |
| 10 | 1.20 | 14 | 1.0 | 32.0 | 15 |
| 20 | 1.07 | 15 | 2.0 | 29.0 | 15 |
| 30 | 1.02 | 15 | 3.0 | 27.0 | 16 |
| 40 | 0.98 | 16 | 4.0 | 26.0 | 17 |
| 50 | 0.94 | 16 | 5.0 | 25.1 | 17 |
| 60 | 0.92 | 17 | 6.0 | 25.0 | 17 |
| 70 | 0.89 | 17 | 7.0 | 22.0 | 18 |
| 80 | 0.86 | 17 | 8.0 | 21.0 | 18 |
| 90 | 0.84 | 18 | 9.0 | 20.0 | 18 |
| 100 | 0.80 | 18 | 10.0 | 20.0 | 18 |
| 110 | 0.77 | 18 | 11.0 | 19.0 | 19 |
| 120 | 0.74 | 18 | 12.0 | 18.0 | 19 |
| 130 | 0.72 | 18 | 13.0 | 17.0 | 19 |
| 140 | 0.69 | 19 | 14.0 | 15.0 | 19 |
| 150 | 0.69 | 19 |   |   |   |
| 160 | 0.67 | 19 |   |   |   |
| 170 | 0.65 | 19 |   |   |   |
| 180 | 0.61 | 19 |   |   |   |
| 190 | 0.59 | 19 |   |   |   |
| 200 | 0.58 | 19 |   |   |   |
* Supply Voltage: 13.8 Volts
FILL RATES
| | |
| --- | --- |
| 2.5 GALLON TANK | FILL RATE |
| 0 to 145 PSI | 4 min. 20 sec. (± 15 sec.) |
| 110 to 145 PSI | 1 min. 20 sec. (± 10 sec.) |
| 0 to 200 PSI | 6 min. 40 sec. (± 15 sec.) |
| 165 to 200 PSI | 1 min. 30 sec. (± 10 sec.) |
| 5.0 GALLON TANK | FILL RATE |
| 0 to 145 PSI | 9 min. 05 sec. (± 15 sec.) |
| 110 to 145 PSI | 2 min. 45 sec. (± 10 sec.) |
| 0 to 200 PSI | 14 min. 00 sec. (± 15 sec.) |
| 165 to 200 PSI | 3 min. 20 sec. (± 10 sec.) |
Additional Info Download: