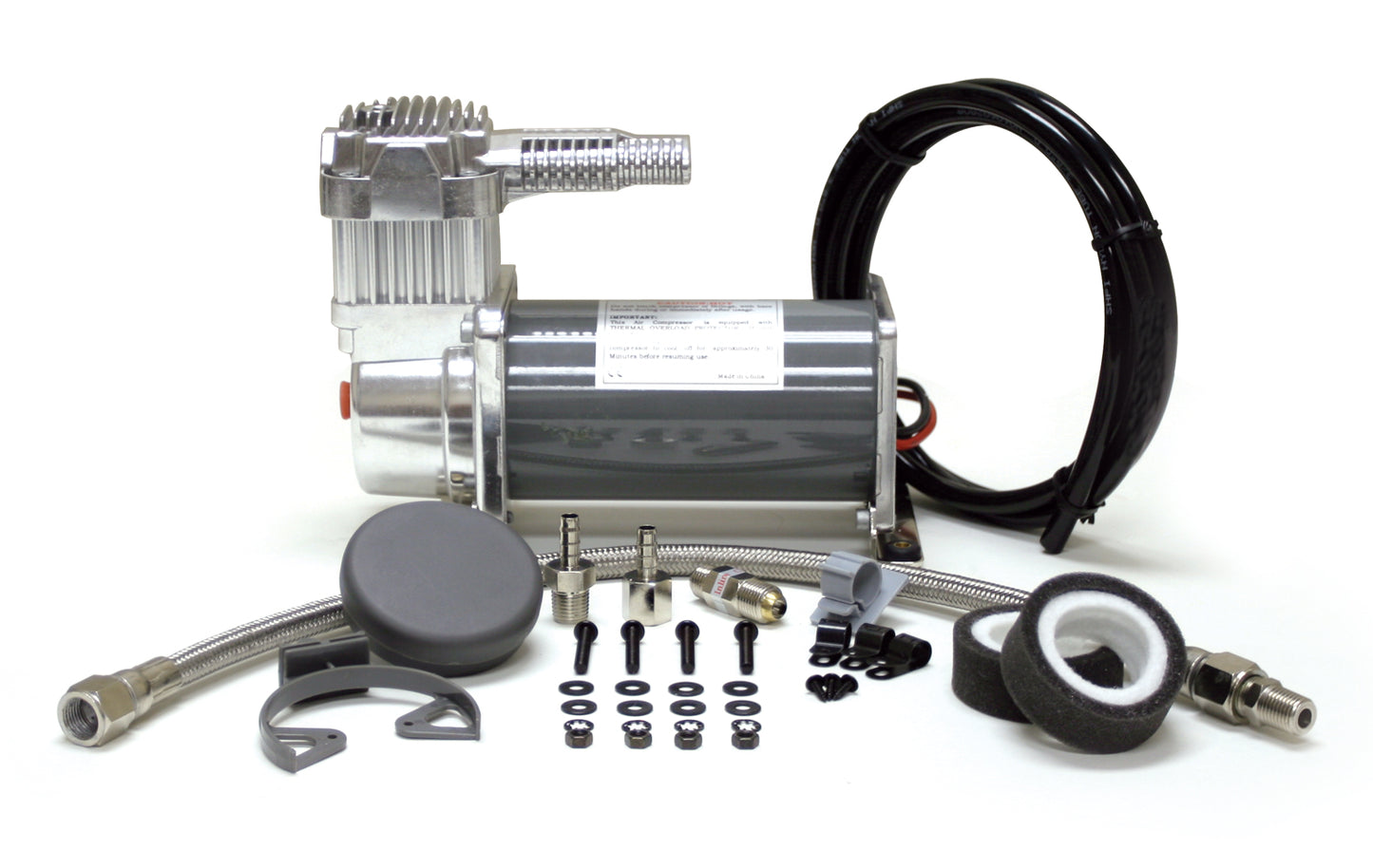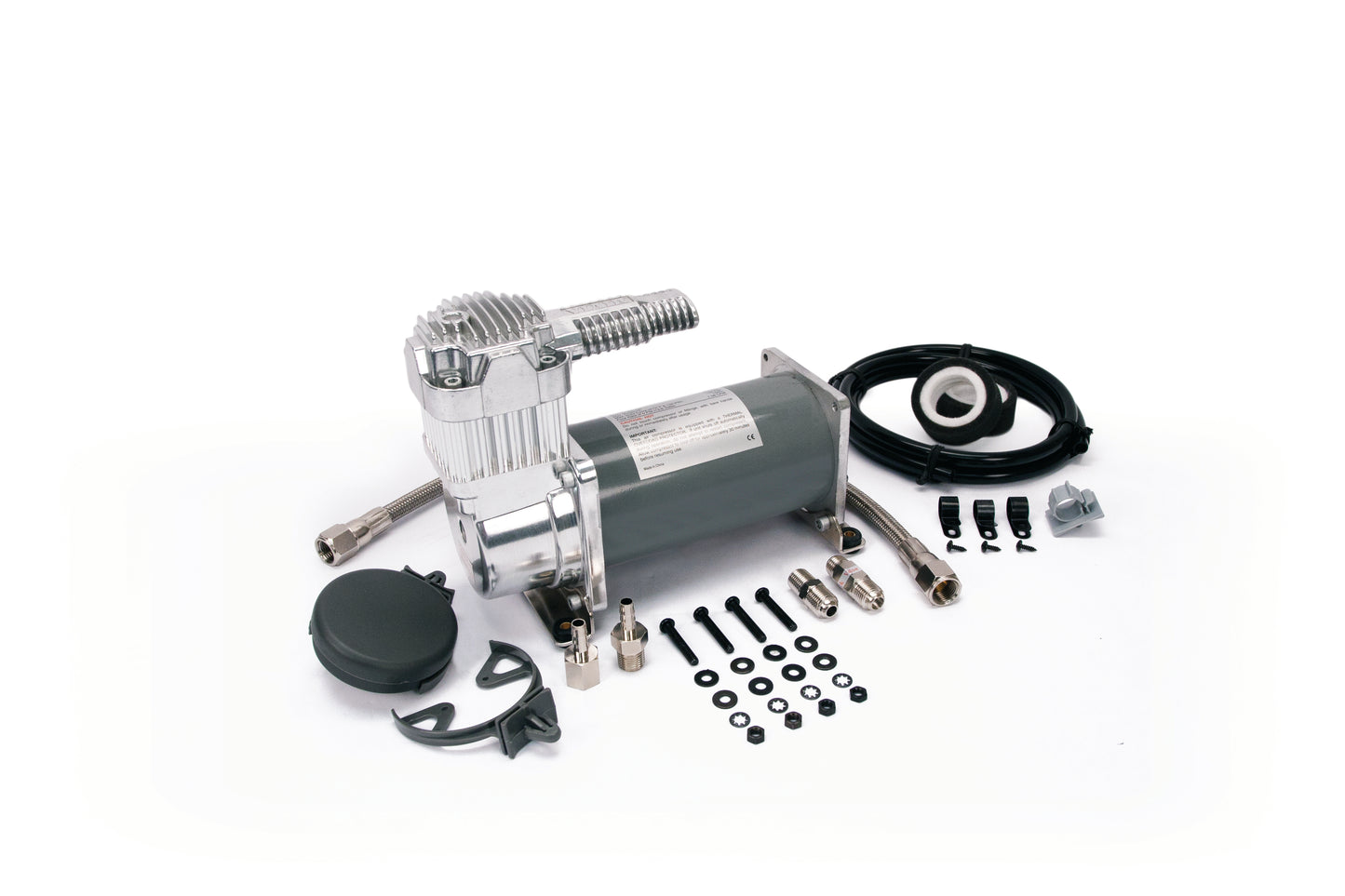 Industrial Grade (IG) compressors are specifically designed to fill air reservoir tanks and feature a head assembly that includes a newly-developed, patents pending innovative head design for better heat dissipation. All IG compressors are certified CE spec. and feature outstanding sealing properties to the elements. Additionally, all IG compressors are equipped with a separate stainless steel braided PTFE-lined leader hoses and check valve assembly that protects the compressor against high amperage restarts.
FEATURES
– Thermal Overload Protector
– Vibration Isolators
– Mounting Hardware
– Heavy Duty 1/4″ NPT Check Valve
– Stainless Steel Braided PTFE-Lined Leader Hose
– Air Line for Remote Mount Air Filter
– Remote Mount Air Filter Assembly
– (2) Replacement Air Filter Elements
– Installation Instructions

SPECIFICATIONS
– 12-Volt / 24-Volt
– Permanent Magnetic Motor
– Duty Cycle: 100% @ 100 PSI
– Max. Working Pressure: 150 PSI
– Max. Air Tank Size: 5.0 Gallon
– Max. 12V Amp Draw: 16-Amps
– Max. 24V Amp Draw: 9-Amps
– Ingress Protection Rating: IP67
– Max. Ambient Temp: +158°F
– Min. Ambient Temp: -40°F
– Dimensions: 9″L x 4″W x 6.75″H
– Net Weight: 8.25 lbs.

RECOMMENDED COMPONENTS
– 0.5 Gallon Tank (P/N 91005)
– 1.0 Gallon Tank (P/N 91010, 91014)
– 1.5 Gallon Tank (P/N 91015)
– 2.0 Gallon Tank (P/N 91022)
12-VOLT COMPRESSOR
PSI
CFM
A
BAR
LPM
A
0
1.06
7
0
30.0
7
10
1.00
8
1.0
27.0
8
20
0.90
9
2.0
24.2
10
30
0.85
10
3.0
21.1
10
40
0.76
10
4.0
19.7
11
50
0.72
11
5.0
18.3
12
60
0.69
11
6.0
17.7
12
70
0.65
12
7.0
17.0
13
80
0.64
12
8.0
15.5
14
90
0.62
12
9.0
14.4
15
100
0.60
13
10.0
13.0
16
110
0.57
13
120
0.53
14
130
0.51
15
140
0.48
16
150
0.44
15
* Supply Voltage: 13.8 Volts
FILL RATES
12-VOLT COMPRESSOR
2.5 GALLON TANK
FILL RATE
0 to 105 PSI
3 min. 40 sec. (± 10 sec.)
85 to 105 PSI
50 sec. (± 05 sec.)
0 to 145 PSI
5 min. 45 sec. (± 10 sec.)
110 to 145 PSI
1 min. 44 sec. (± 05 sec.)
5.0 GALLON TANKFILL RATE
FILL RATE
0 to 105 PSI
7 min. 24 sec. (± 15 sec.)
85 to 105 PSI
1 min. 40 sec. (± 05 sec.)
0 to 145 PSI
12 min. 12 sec. (± 15 sec.)
110 to 145 PSI
3 min. 30 sec. (± 10 sec.)
Additional Info Download: