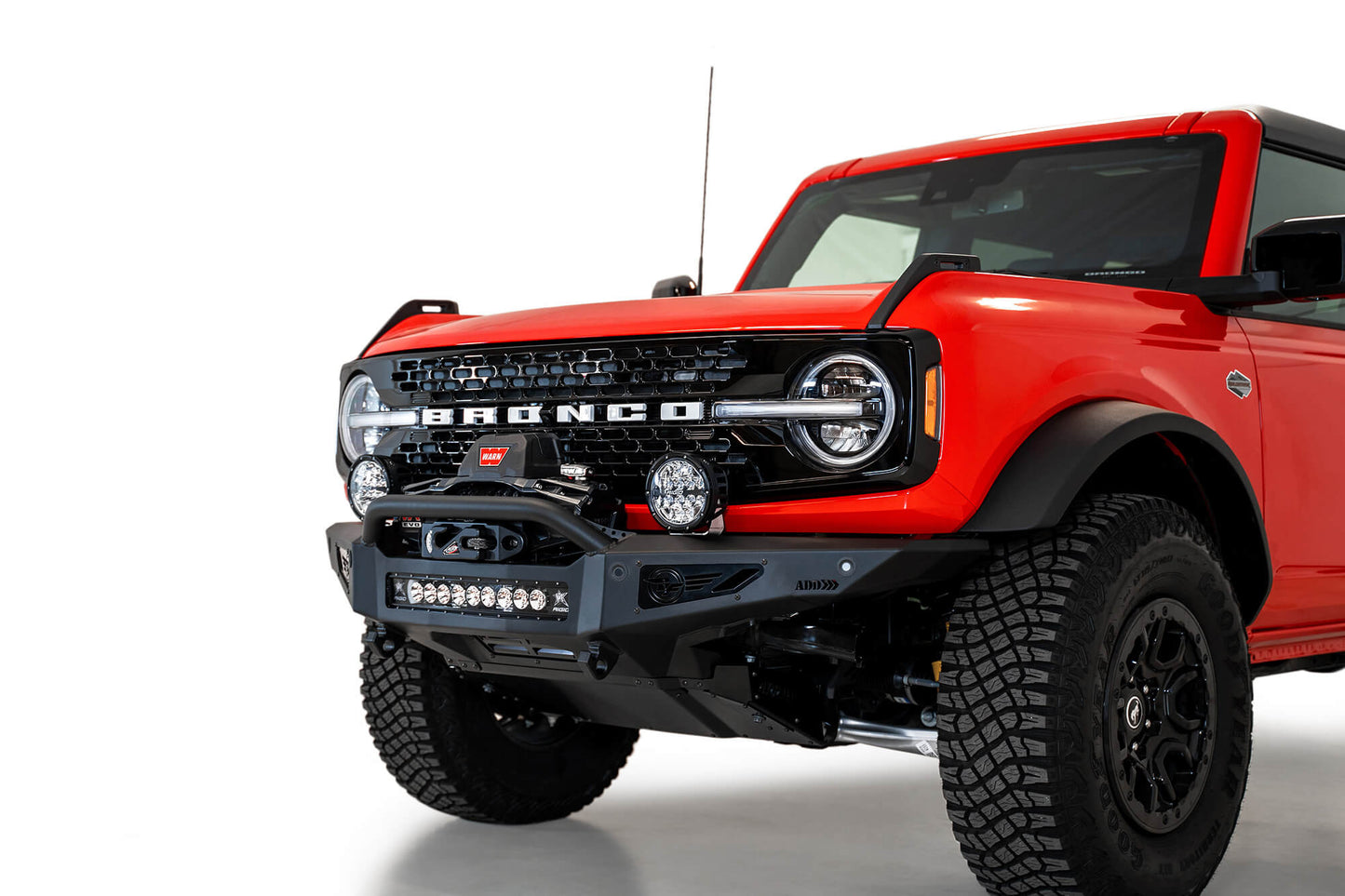 Unleash Your Wild Side, Conquer the Trails!
ADD Rock Fighter Winch Front Bumper | 2021-2023 Ford Bronco
With the introduction of the new Ford Bronco and it's rock crawling capabilities, we've brought our line of Rock Fighter bumpers to the 6th Gen Bronco. Designed with heavy trail use in mind, this bumper features high clearance and approach angles.
At the center of the bumper is a universal light mount ready for up to a 20-inch radius light bar, or 5 cube lights. There are two light mounts for round lights on top, on either side of the low profile top hoop and standard winch mount.
This Bronco front bumper retains OEM parking sensor locations, and there is an adaptive cruise control relocation bracket available. The Rock Fighter has an integrated bumper skid plate featuring louvers to allow airflow to the intercooler.
Additionally, we offer an optional 3/16-inch aluminum alloy front skid plate to provide superior protection to the underbelly, as opposed to the OEM plastic skid. There are also 2 reinforced clevis mounts for soft shackles for recovery options if you find yourself in a tough situation.
Designed for off-road function and it's aggressive styling, the Rock Fighter looks great with any style fenders. As always, this is fully bolt-on and Made in America.
Installation
Modern Radius Plate Steel Design
Standard Winch Mount
Universal Light Mount for Up to 20-Inch Radius Light Bar or 5 Cube Lights
Two Light Mounts on Top for Round Lights
Optional 3/16" Aluminum Skid Plate
OEM Skid Plate Will Fit (Trimming Required)
Vented Lower Panel with Louvers for Intercooler Airflow
Retains OEM Parking Sensors
Reinforced Clevis Mounts Accept Soft Shackles
Adaptive Cruise Control Relocation Bracket Available Separately
Fully Bolt-On
Made in America