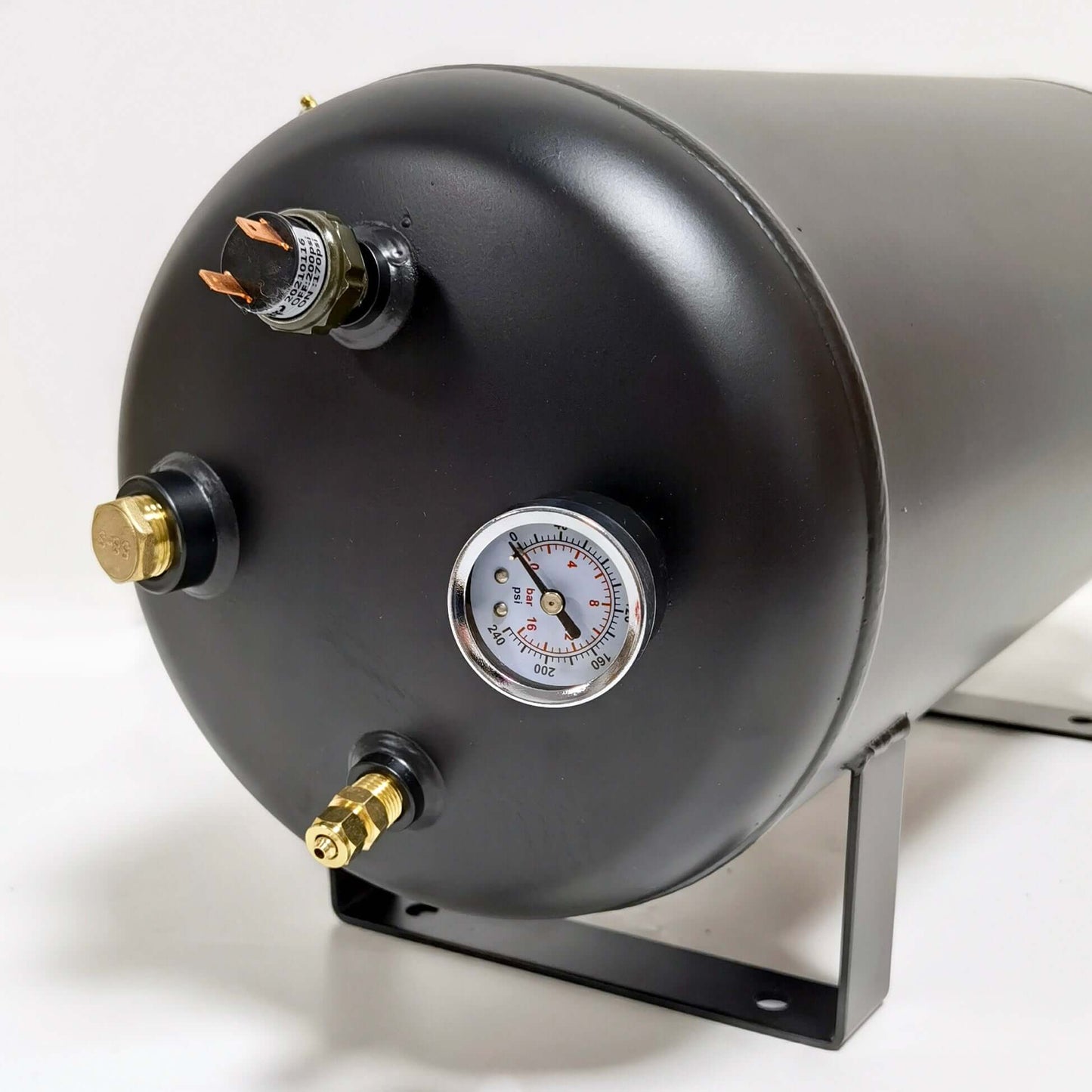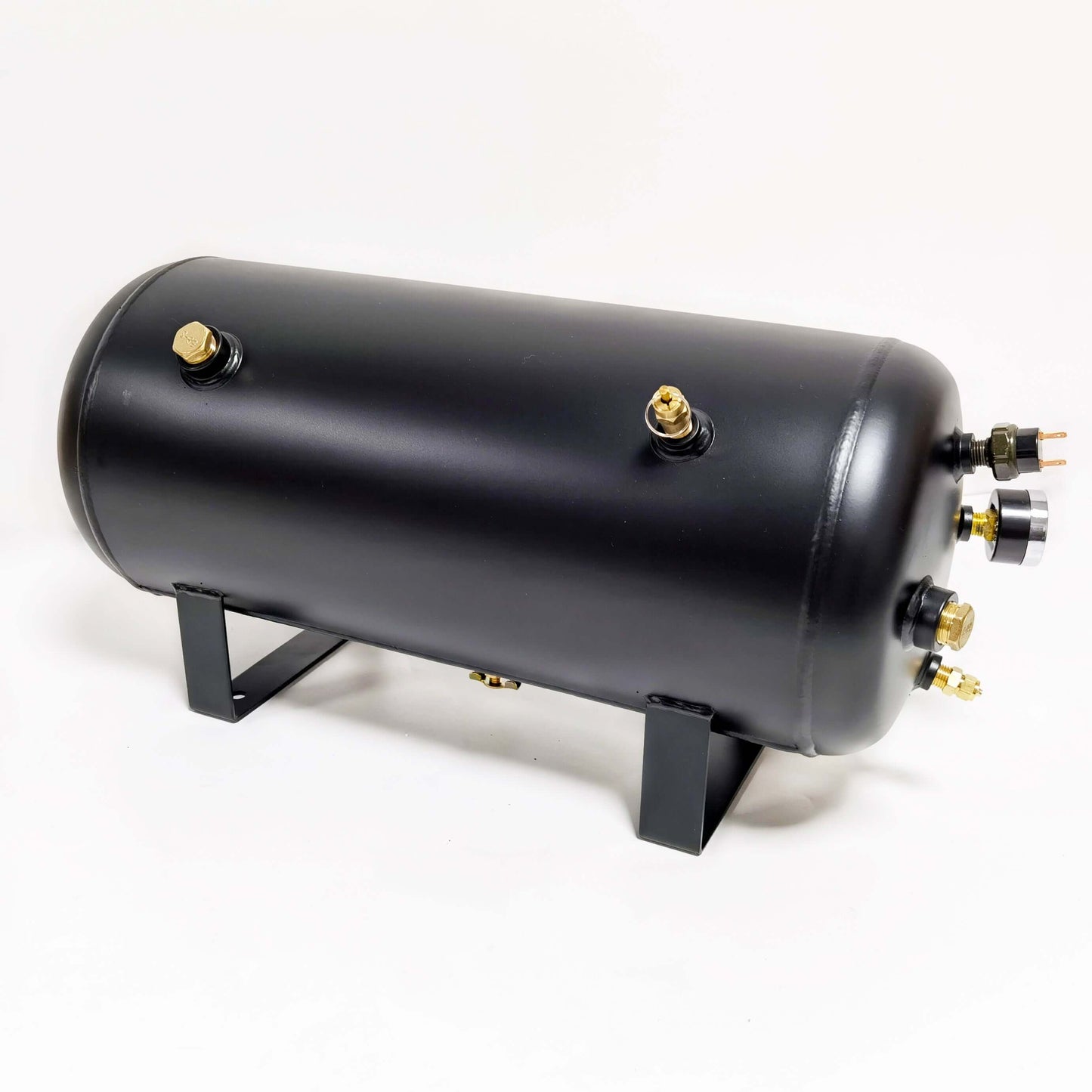 Hear the MasterBlaster 5Gal Horn Kit
MasterBlaster Gal Horn Kit overview
With a unique sound as the one offered by our MasterBlaster, you are going to want to blast it for as long as possible and that's why we have paired the MasterBlaster with our 5Gal Air horn kit! With our MasterBlaster 5Gal Air Horn Kit you get an insanely long blast time out of one of our most standout air horns along with a complete constant-duty onboard air system capable of doing so much more than just blowing horns!
If you really want to stand out and make everyone notice you are around without having to worry about running out of air, the MasterBlaster 5Gal Air Horn Kit is the one for you! This four chime monster will have your ears ringing long after you have blasted it!
Pairing our MasterBlaster with our 5Gal Air source unit is a no brainer as you will get up to 14 seconds of constant blast time. Also, if you want to take on pneumatic tasks such as inflating tires, powering air tools, and supporting air suspension you will be able to do it with this kit. As with all our kits, our Horn Kits come complete with all required components and detailed instructions. 
(Note: Tank mounted air compressors are not fully sealed. For this reason, the manufacturer recommends the tank/compressor system be mounted in the upright position in an enclosed space away from moisture, dirt, debris, etc... Failure to mount this product as directed will void the warranty)

Technical specifications of the MasterBlaster 5Gal Horn Kit
Air Compressor (USR C4)

MasterBlaster Horn
5GAL Air Tank


Color: Chrome
Material: Metal
Size: 11in x 3.9in x 6.5in
Voltage: 12V
Amperage Draw: 23A
Max Working Pressure: 200 PSI
Working Pressure: 170-200 PSI
Flow Rate: 1.76 CFM

Color: Black




Material: Metal




Decibel: +150DB




Voltage: 12V




Size: 6.5/9/11.5/13.7in x 13in x 3.5in

Color: Black




Capacity: 5 Gallon (19L)




Max Working Pressure: 200 PSI




Working Pressure: 180 PSI




Total Ports: 5




Size: 21in x 8.6in x 11in
Package includes
1 x MasterBlaster Horn
1 x 5GAL Air Tank
1 x USR C4 Compressor
1 x Air Pressure Gauge
1 x Pressure Switch
1 x Safety Valve
1 x Wing Style Drain Valve
5 x Hex Head Male Plug
1 x OD Nylon Plastic Hose
1 x Fuse
1 x Thread Sealant Tape

1 x Rubber Ring
4 x Screws(Big)
4 x Screws (Small)
2 x Screws (Mini)
4 x Nut (Big)
4 x Nut (Small)
4 x Nut (Mini)
4 x Gaskets (Big)
8 x Gaskets (Small)
4 x Small Accessories
Where to install the MasterBlaster 5Gal Horn Kit
(Pickup truck, 4x4, SUV...)