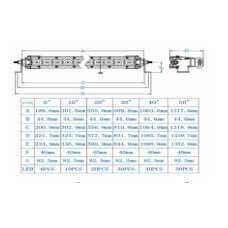 The LED chandelier 30" and 40'' has a distant (Spot) type of lighting. A very powerful beam. A high-tech pressure regulator (breather) prevents the formation of condensate inside the body.
The headlight, including the module itself and all incoming electrics, is IP68 certified.

Light color: white.

Beam Angle: 10°

Refers to the series: S, Hybrid.

Current consumption: 8.8 A and 12.5A

Working voltage: 9-36V.

Weight: 3.9 kg and 5.3kg

The kit includes: headlight, bracket, wiring.

Dimensions: 844 x

 78 x 41 mm and 

1099 x 78 x 41 mm.

The LEDs in the lamp are installed in one row.

LEDs are installed in two rows.

The duration of the LEDs is 50.000 hours.

Aluminum alloy body.