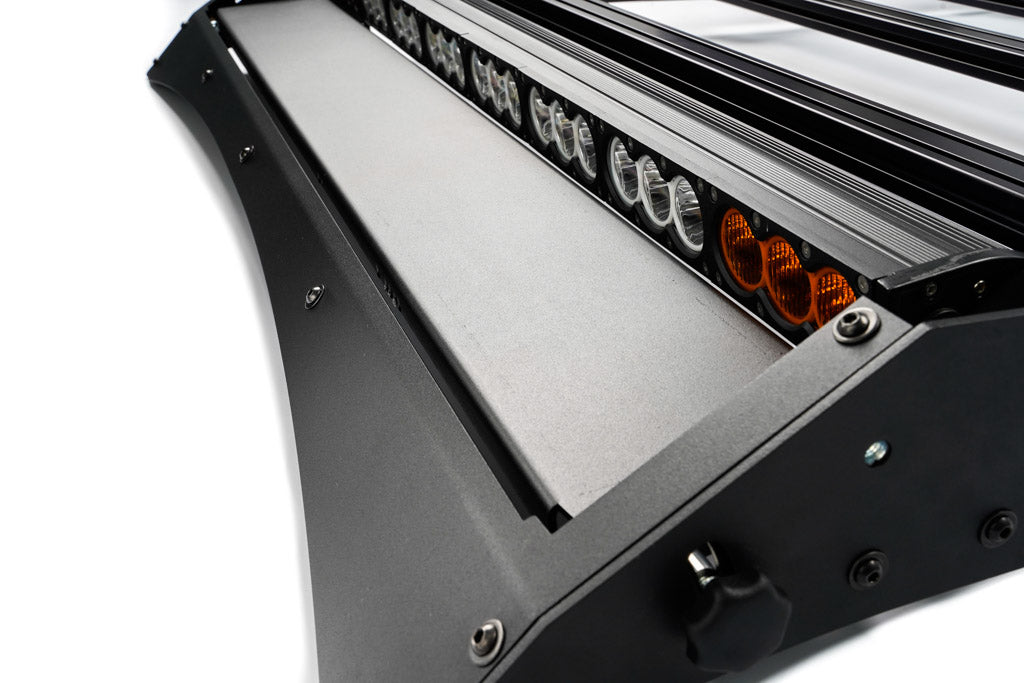 Tackle the trail with confidence!
Cali Raised Premium Roof Rack | 2010-2023 Toyota 4Runner
Tackle the trail with confidence with this one-of-a-kind Cali Raised LED Premium roof rack. Designed by our American engineers, this lightweight and sleek construction make it stand out from the rest.
The best feature? With a perfect fit, the low profile and perfect fit ensure low vibrations and wind noise.
This high-quality roof rack features an all-new adjustable LED wind deflector (ALWD) - an industry first that's sure to impress. This is a one-of-a-kind ALWD system that protects your LED light bar behind an adjustable fairing when not in use, keeping everything street legal whether on or off the trail.
Check out the complete lighting package option options to satisfy your lighting cravings. When it's time to head off-road, all it takes is 30-seconds or less, and you're ready to rock.
Combine this premium roof rack with any of our many high-powered LED lights for the best price and performance.
Complete Light Kit vs 360° Lighting
Due to the rear wind deflector on the 4Runner, our 4Runner Complete Lighting package includes (4) 20W Pods and Toyota 4Runner 16pc Interior LED Bulb Replacement Kit.

Important Notes
Note: This will not work with a TRD Snorkel

The rack will add 5" to the overall height of your vehicle.

This rack is custom-made for the 2010 - 2021 Toyota 4Runner. We cannot guarantee fitment on any other vehicles unless otherwise explicitly specified.

Includes hardware for installation.

When purchasing a light bar, this will include the wiring harness.
DUAL FUNCTION LIGHT BAR OPTION
Wiring Your Dual Function Light Bar:
With the ALL NEW Dual Function Light Bar Wiring Harness - wiring just got 100% simplified. When you purchase a Dual Function Wire Harness from Cali Raised LED - pair with our Dual Function Wire Harness and get the complete set up for a plug and play installation.
All you need to decide is the height of the switch that is included in your wiring harness kit,
There are two ways you can wire your dual function bar depending on how you would like it to operate.
TWO WIRE HARNESSES:
Controlling Amber & White Lights Independently
If you want to control the amber and white separately then you will need 2 harnesses. With the 2 harnesses, this gives you the ability to run the Amber/White lights individually or all at the same time.
The LED bar will have 3 wires on it. BLACK, WHITE, GREEN
BLACK: Ground
WHITE: Power For The White LED's
GREEN: Power For The Amber LED's
The harness will have DT Plugs at the end. You will want to remove those plugs as they are not needed.
After the plugs are removed there will be red and black wires exposed. between both harnesses, you will have 2 red wires and 2 black wires.
You will want to connect the 2 black wires together and connect them to the black wire on the LED bar, Then one red to the white and the other red to green. That will give you the ability to run the lights independently.
ONE WIRE HARNESS:
Controlling ALL Lights At Once
If you are wanting the full bar to turn on/off at once and not be able to control separately then you would just need one harness.
Remove the plug from the harness. Connect the black wire from the LED bar to the black wire on the harness. Then combine the green and white wire on the LED bar to connect to the red on the harness.
Installation Instructions
Wiring
For lighting the complete lighting package, do not offer a harness at this time, but a custom harness is in the works!
We only offer the wiring harness for the FRONT Light Bar. For the Side Lighting options, please see below.
The best place to start on getting your roof rack wired up would be to contact a shop in your local area, look for a shop that does 12V wiring. Look for an automotive accessories shop or a 4Wheel Parts store or equivalent that also does installations.
We can't recommend a particular shop as everyone's quality of work differs. We highly recommend asking the shop for examples of their work before hiring them to wire your rack.
WEIGHT LIMITATIONS
Most vehicles are rated for no more than 500 lbs of weight limit to the top of the vehicle. Our racks are rated to withstand well over 1000lbs amount, which will exceed the rating for the vehicle.
WARRANTY
Cali Raised LED provides a 2-year warranty on all our products. Limited warranty on third party products, contact us directly for details.
Easy to assemble and install, no major modifications required.
Designed to be 100% Bolt-On.
Premium models include adjustable wind deflectors to protect your light bar when not in use.
Sleek and perfect fit profile ensures little to no wind noise or vibration.
Lightweight and sturdy.
Powder-coated black (includes 6 black extrusion bars and all required hardware).
Complete lighting package option, include either smooth sides or go all-in with lighting cutouts.