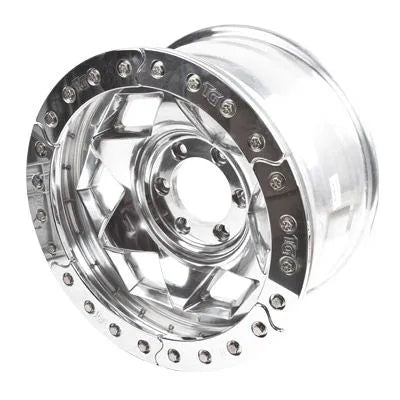 Unleash Your Off-Road Spirit!
Trail-Gear 17 Inch Aluminium Creeper Lock Beadlock Wheels (5X4.5)
Trail-Gear is expanding our Creeper Lock Wheel line to include wheels for TJs, Ford Rangers, and many other applications! Creeper Locks are 17" X 9" wheels with a backspacing of 3.75" standard (4.25" and 5" backspacing available upon request. Call your favorite Authorized Trail-Gear Dealer or TG Customer Service for lead time and pricing).
Each wheel is made from a solid piece of aluminum and weighs a whopping 45 lbs with locking ring and hardware. These are no ordinary aluminum wheels, Creeper Locks are super tough and built to last.
Each wheel is cast with the inner beadlock as part of the wheel. All 24 of the bolt holes on the wheel have steel Time-Serts® installed to prevent the bolts from galling. Drop down inner lip centers tire onto wheel during mounting.
Our Creeper Locks Sectional Beadlock Rings have been tested extensively at some of the world's hardest courses, such as "The Hammers" in Johnson Valley, California and the Rubicon trail in Lake Tahoe, California as well as the Ultra4 racing circuit.
Each Creeper Locks Beadlock Wheel will include a TG Hub Cover at no additional cost!
Need new lug nuts? Check out our selection of replacement lug nuts here.
Supported Models
Jeep Wrangler TJ 1996-2006 (All Models)
Jeep Wrangler Unlimited 2003-2006 (All Models)
Jeep Wrangler YJ 1987-1995 (All Models)
Jeep Cherokee XJ 1984-2001 (All Models)
Jeep Grand Cherokee ZJ 1993-1998 (All Models)
Ford Ranger 1984-2012 (All Models)
Ford Bronco II 1984-1990 (All Models)
Ford Explorer 1991-2010
Toyota Pickup 2WD 1980-1995
Toyota Tacoma 2WD 1995-1997
Warranty
All products carry our 12 Month Limited Warranty. All warranties are limited to the original purchaser and are not transferable to subsequent owners of the product.
The warranty period begins on the purchase date. Trail-Gear warrants that it will repair or replace, free of charge, any eligible product which, under normal conditions of use and service, proves to be defective in materials or workmanship.
This warranty does not cover any labor costs incurred in diagnosis of defects, removal or reinstallation of a product, nor does it cover any other consequential expenses.
Solid Heavy Duty Design
17" Rims, 9" Wide
3.75" Back Spacing
24, Grade 8 5/16" bolts
Time-Sert® Inserts Installed
Wheel Rating, 2200 lbs Each
Aircraft grade 6061 T6 billet aluminum Beadlocks Rings
Solid Heavy Duty Design
17" Rims, 9" Wide
3.75" Back Spacing
Center bore: 3.25" (83mm)
24, Grade 8 5/16" bolts
Time-Sert® Inserts Installed
Wheel Rating, 2200 lbs Each
Aircraft grade 6061 T6 billet aluminum Beadlocks Rings