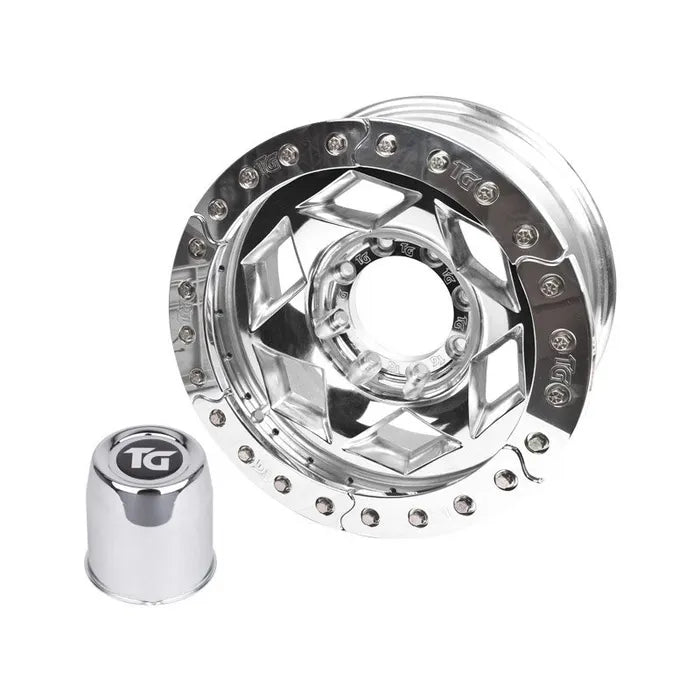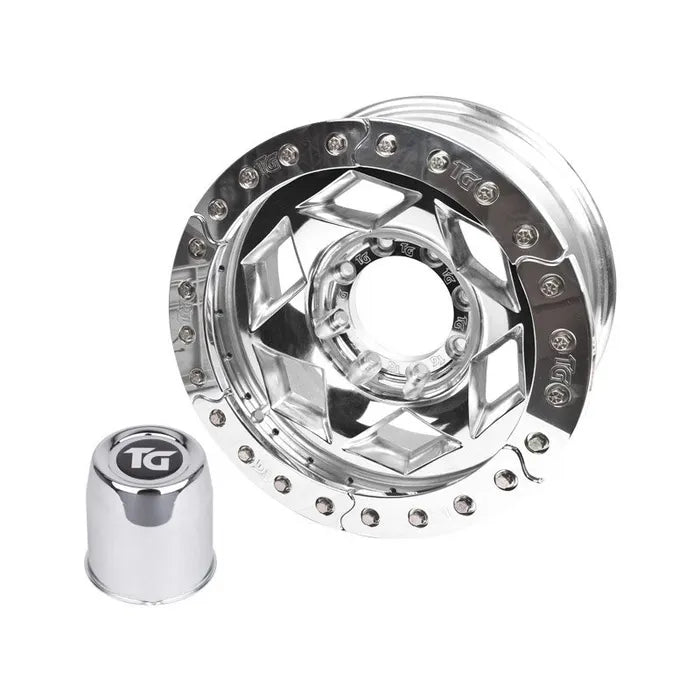 Unleash Your Off-Road Spirit!
Trail-Gear Creeper Lock Beadlock Wheels (8 X 170mm)
What are Creeper Locks? Creeper Locks are Trail-Gear's very own, super strong, heavy duty wheels.
These wheels look great and come at an affordable Trail-Gear price! Creeper Locks are 17" X 9" wheels with your choice of 4.25" [108mm] or 5.00" [127mm] backspacing and are made from a solid piece of aluminum.
8-lug Creeper Lock Wheels have a 5-1/8" center bore. Each wheel weighs a whopping 45 lbs with locking ring and hardware. These are no ordinary aluminum wheels.
Creeper Locks are super tough and built to last. Each wheel is cast with the inner beadlock as part of the wheel.
All 24 of the bolt holes on the wheel have steel Time-Serts® installed to prevent the bolts from galling. Drop down inner lip centers the tire on the wheel during mounting.
TG Hub Cover included at no additional cost with every 8-Lug Creeper Lock wheel!

From "The Hammers" in Johnson Valley, California to the Rubicon trail in Lake Tahoe, California and even on the Ultra4 racing circuit, these beadlock rings have been extensively tested at some of the world's hardest courses.
Non-vehicle specific. Will fit most vehicles with 8" on 170mm [6.693"] lug pattern.
Installation
Warranty
All products carry our 12 Month Limited Warranty. All warranties are limited to the original purchaser and are not transferable to subsequent owners of the product.
The warranty period begins on the purchase date. Trail-Gear warrants that it will repair or replace, free of charge, any eligible product which, under normal conditions of use and service, proves to be defective in materials or workmanship.
This warranty does not cover any labor costs incurred in diagnosis of defects, removal or reinstallation of a product, nor does it cover any other consequential expenses.
Every Creeper Lock Wheel includes a Creeper Locks Sectional Beadlock Ring offering a variety of advantages over traditional 1-piece beadlock rings:
Interlocking design.
Aggressive knurling for a better bite into the rubber of the tire.
Increased material thickness.
Deeper recesses for the bolt head.
Single segments can be replaced if damaged.
Multiple color options.
Compatible with all existing TG 17" beadlock wheels.
Solid Heavy-Duty Design
17" Rims, 9" Wide
8 on 170mm [6.693"] lug pattern
4.25" [108mm] or 5.00" [127mm] Back Spacing
5-1/8" [130mm] center bore
Provided with (24) Grade 8 5/16" bolts for beadlock ring mounting
Hub cover with TG decal supplied with wheel
Time-Sert® Inserts Installed
Wheel Rating: 2200 lbs each
Sectional Beadlocks Rings are made from aircraft grade 6061-T6 billet aluminum