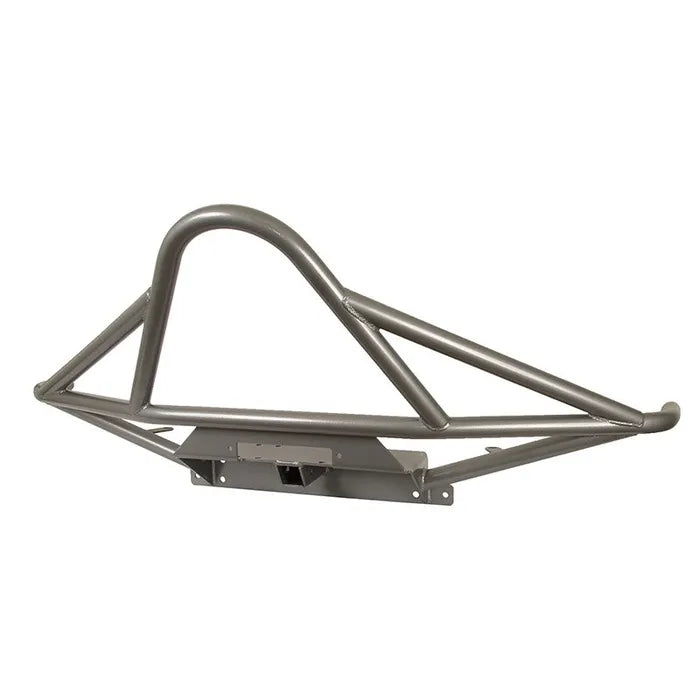 Conquer the Trails with Trail-Gear Rock Defense!
Trail-Gear Toyota Rock Defense Front Bumper (86-88 Pickup and 86-89 4Runner)
HREW bumpers are strong, but Trail-Gear had to take things to the next level by making our bumpers out of 1020 DOM (1.75" X .120" wall).
1020 DOM is more dent resistant than HREW tubing and it will not split down the seam as we have all seen the cheaper HREW tubing do. We can confidently say that our Rock Defense™ bumpers are one of the strongest on the market.
Mounting holes on the winch plate are drilled for most 5000-9500 model low-profile winches and smaller sized 9.0R Warn competition winches.  For larger winches some minor trimming of the grill may be required.
Bumper also features a shackle receiver that will make a great anchor point for winch or strap recoveries.
Warranty
All products carry our 12 Month Limited Warranty. All warranties are limited to the original purchaser and are not transferable to subsequent owners of the product.
The warranty period begins on the purchase date. Trail-Gear warrants that it will repair or replace, free of charge, any eligible product which, under normal conditions of use and service, proves to be defective in materials or workmanship.
This warranty does not cover any labor costs incurred in diagnosis of defects, removal or reinstallation of a product, nor does it cover any other consequential expenses.
Fits 4WD Models Only! Not for Use with 2WD Vehicles!

Constructed from 1020 DOM Steel (1.75" x .120" Wall)
Winch Plate Drilled for Most 5000-9500 Model Low-Profile Winches and Smaller Sized 9.0R Warn Competition Winches
Turn Signal Mounting Tabs Not Included
Unpainted Finished Steel
Will Not Work with Roller Type Fairlead - Requires Hawse Type Fairlead
Not Intended for Use with a Body Lift
Bumper Not Rated for Towing