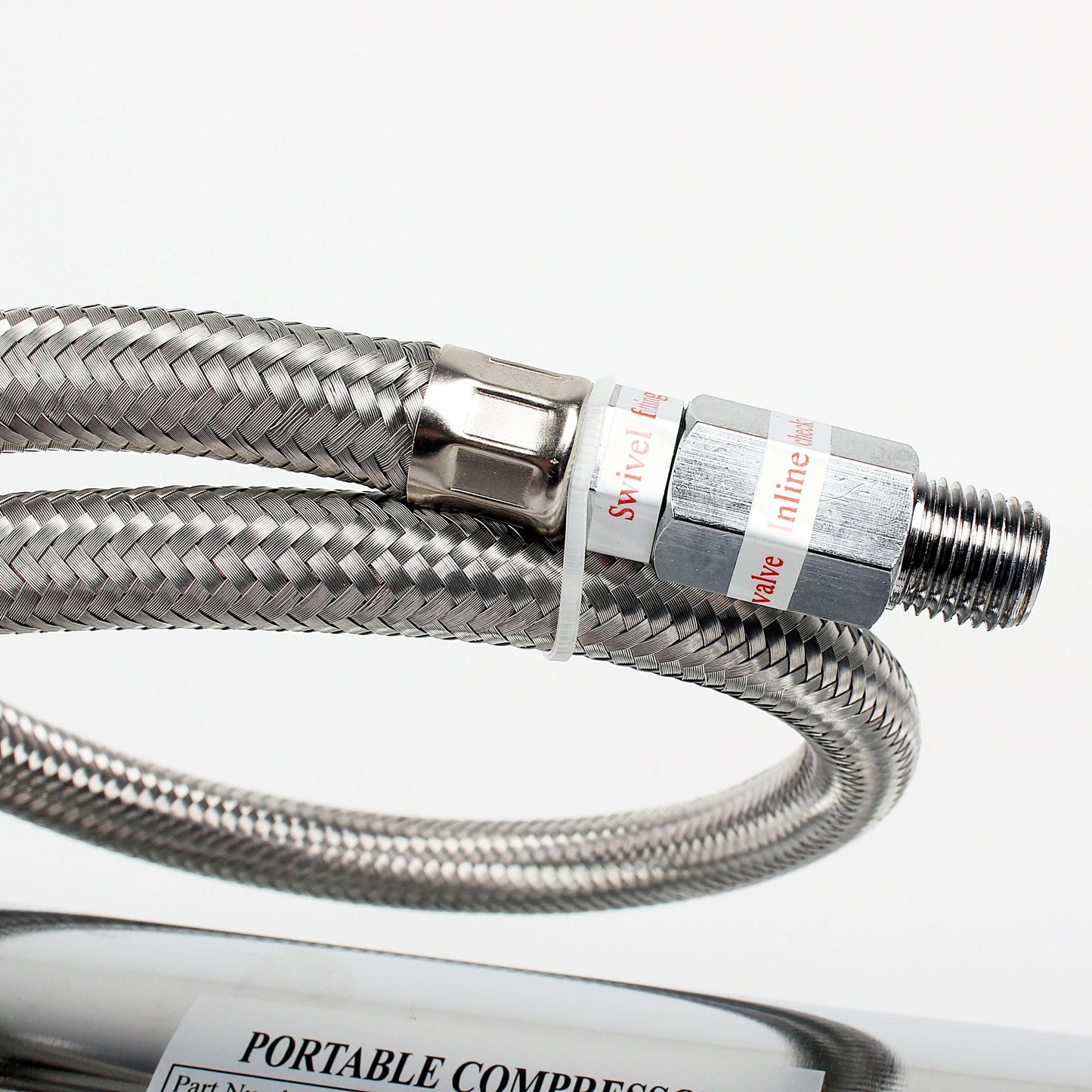 The go-to constant duty compressor for years, the USR C4 Air Compressor has been trusted to power some of our most popular train horn kits throughout the years. As one of the hardest working compressors, we offer, managing a 100% duty cycle @ 100 PSI. Allowing your system to power air suspension, tire inflation, air tools, and more in addition to powering your horns. While not as fast as some other USR Air Compressor models, the USR C4 still boasts impressive performance for its class, providing 1.76 CFM output. The Viair 444C will recharge a 2.5-gallon tank from 165-200 PSI in just over a minute and a half and recharge a 5-gallon tank in just under three minutes. 
The USR C4 comes complete with a standard 1/4″ NPT stainless steel braided leader hose with a check valve and insulated wiring for fast installation. 
It manages 1.76 CFM and works optimally for air tanks from 2.5GAL to 5GAL.
Note: Use thread sealant for proper installation. Thread tape is not recommended. Properly sealed, recommended torque for 1/8″ is 10 ~ 11 ft. lbs. Recommended torque for 1/4″ and 3/8″ is 12 ~ 15 ft. lbs.
| 2.5 GALLON TANK | FILL RATE |
| --- | --- |
| 0 to 200 PSI | 4 min. 50 sec. (± 10 sec.) |
| 165 to 200 PSI | 1 min. 32 sec. (± 10 sec.) |
| 5.0 GALLON TANK | FILL RATE |
| 0 to 200 PSI | 10 min. 30 sec. (± 15 sec.) |
| 165 to 200 PSI | 2 min. 50 sec. (± 05 sec.) |