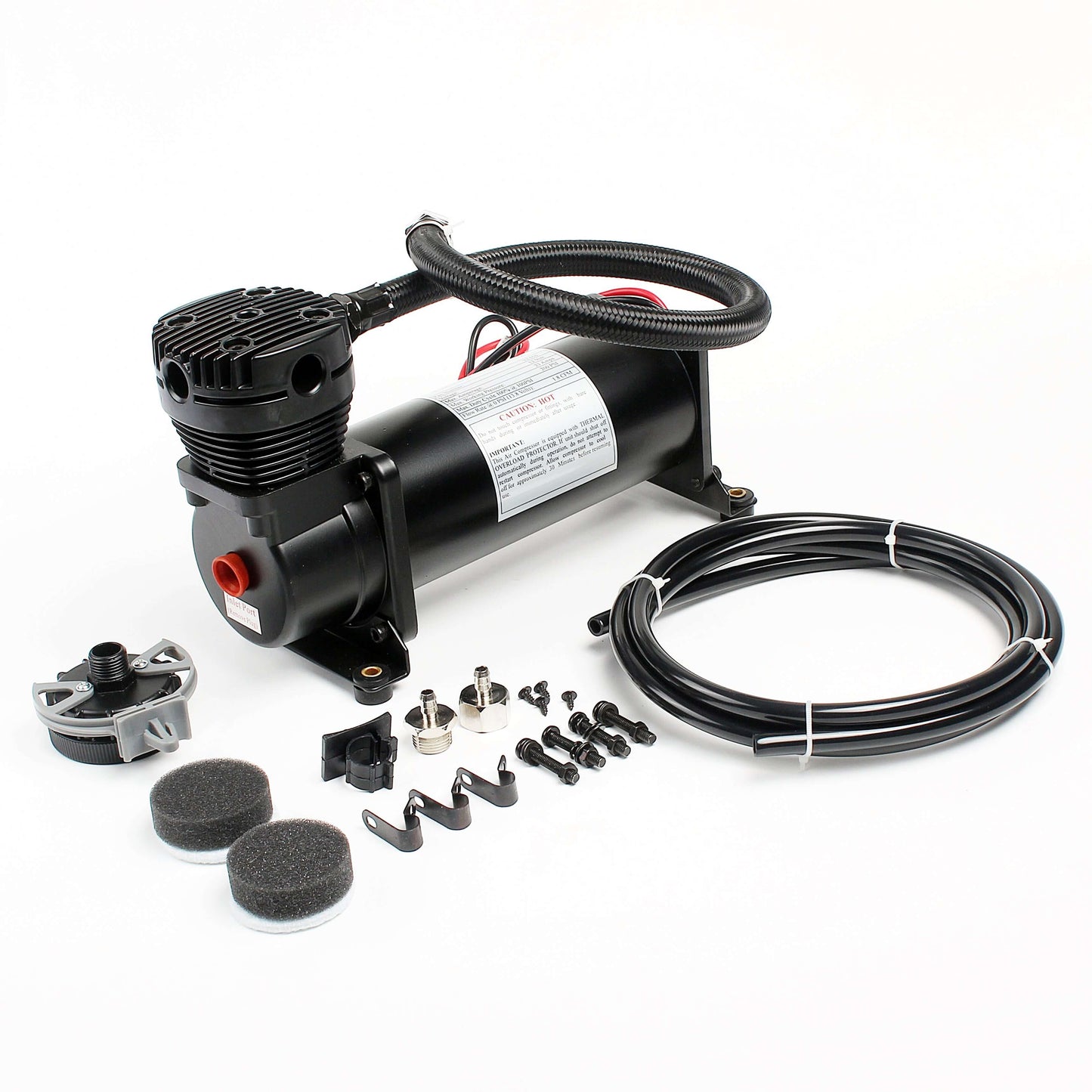 Looking for a powerful mobile compressor that can run 200 PSI easily without breaking a sweat? Check out the USR C5 Air Compressor. With a 100% duty cycle at 100 PSI, the USR C5 is a constant-duty compressor, able to power a host of pneumatic applications, such as tire inflation, air tools, air suspension, as well as making sure your Uncle Sam's Road train horns are always ready to go. The USR C5 doesn't need to trade longevity for speed, still able to recharge a 2.5-gallon tank from 165-200 PSI in just over 1 minute and 30 seconds and recharge a 5-gallon tank from 165-200 PSI in just over three minutes.

The USR C5 comes complete with a remote mountable intake filter assembly, allowing you to relocate the air filter up to 6 feet away to keep it away from moisture and debris. It also includes a standard 3/8″ NPT stainless steel braided leader hose with a check valve and insulated wiring for fast installation. 
It manages 1.86 CFM and works optimally for air tanks from 2.5GAL to 5GAL.
Note: Use thread sealant for proper installation. Thread tape is not recommended. Properly sealed, recommended torque for 1/8″ is 10 ~ 11 ft. lbs. Recommended torque for 1/4″ and 3/8″ is 12 ~ 15 ft. lbs.
| 2.5 GALLON TANK | FILL RATE |
| --- | --- |
| 0 to 145 PSI | 2 min. 50 sec. (± 10 sec.) |
| 110 to 145 PSI | 57 sec. (± 05 sec.) |
| 0 to 200 PSI | 5 min. 02 sec. (± 10 sec.) |
| 165 to 200 PSI | 1 min. 30 sec. (± 05 sec.) |
| 5.0 GALLON TANK | FILL RATE |
| 0 to 145 PSI | 6 min. 02 sec. (± 10 sec.) |
| 110 to 145 PSI | 1 min. 55 sec. (± 05 sec.) |
| 0 to 200 PSI | 10 min. 30 sec. (± 15 sec.) |
| 165 to 200 PSI | 3 min. 10 sec. (± 10 sec.) |