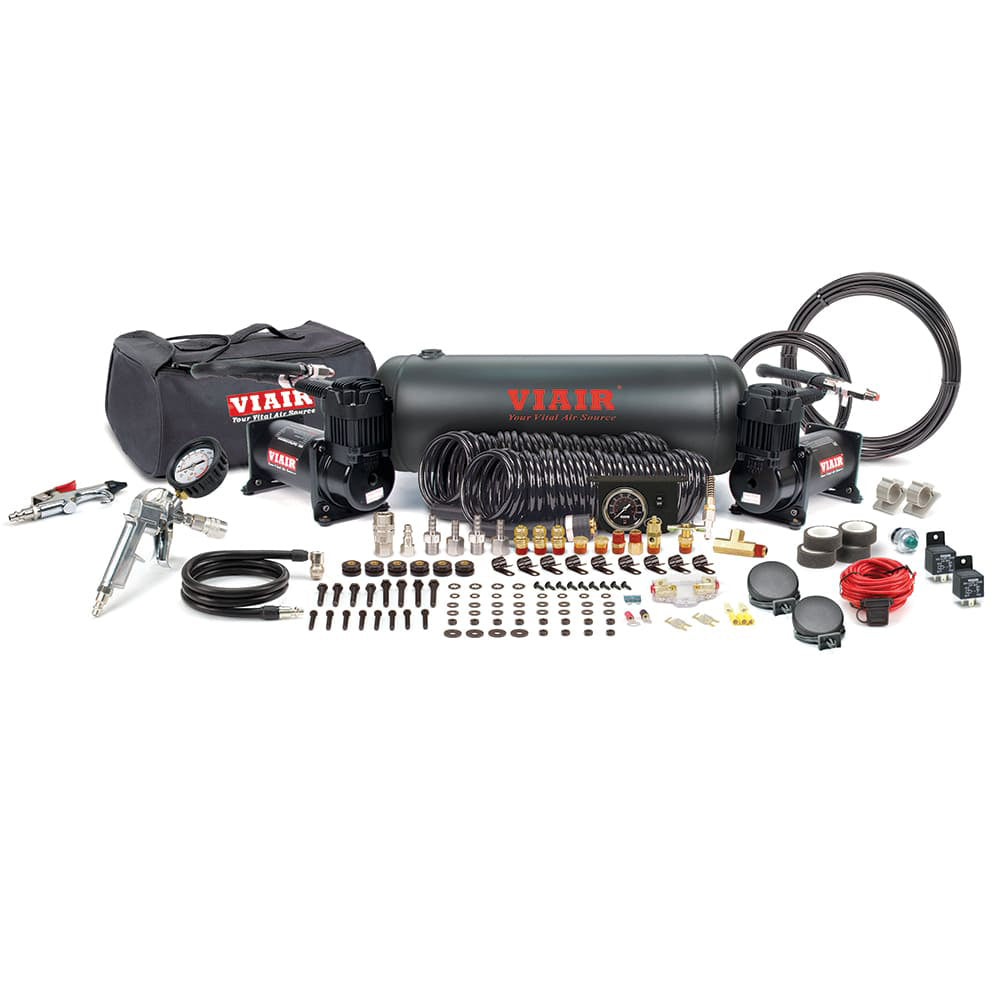 Elevate Your Performance in Style!
VIAIR Stealth Player Heavy Duty OBA 150PSI
VIAIR's Stealth Player Heavy Duty OBA is powered by a pair of 400C compressors, operates from a 2 gallon tank at 150PSI and is capable of inflating tires up to 40". VIAIR's Toyhauler OBA's are powerful systems capable of fast tire inflation and many other pneumatic tasks.
Featuring dual compressors, extension hoses and different size tanks to meet spacing needs, these kits are a must for anyone hauling long trailers in need of serviceable air.
Additional Info Download:
FEATURES
– (2) 400C Stealth Black Air Compressors
w/Thermal Overload Protectors
– 2.0 Gallon Matte Black VIAIR®

Air Tank
– Illuminated Dash Panel Gauge Kit, Black Face 150 PSI
– Pressure switch (110 PSI on, 145 PSI Off)
– (2) 40-Amp 4-Prong Relays
– Mini ANL Fuse Holder w/ 80-Amp Fuse
– Tire Inflation Gun w/ Mechanical 160 PSI Gauge
– (2) 30ft. Coil Hose with Quick Connect and Stud
– 90° 40in. Twist-On Air Hose Chuck
– Rubber Tipped Blow Gun
– (2) Air Filter Housing w/ Replacement Air Filter Elements
– (15ft.) Air Line (For Remote Mount Filter Installation)
– VIAIR Storage Bag
SPECIFICATIONS
– 12-Volt
– Permanent Magnetic Motor
– Duty Cycle: 33% @ 100 PSI
– Max. Working Pressure: 150 PSI
– Max. Air Tank Size: 10.0 Gallon
– Combined Max. Amp Draw: 60-Amps
– Ingress Protection Rating: IP67
– Max Ambient Temp: +158°F
– Min Ambient Temp: -40°F
– Dimensions: 9″L x 4″W x 6.75″H (Each Unit)
PERFORMANCE DATA
| PSI | CFM | A | BAR | LPM | A |
| --- | --- | --- | --- | --- | --- |
| 0 | 4.55 | 39 | 0 | 129.0 | 39 |
| 10 | 4.18 | 40 | 1.0 | 115.6 | 41 |
| 20 | 3.96 | 42 | 2.0 | 106.5 | 45 |
| 30 | 3.74 | 45 | 3.0 | 96.6 | 47 |
| 40 | 3.50 | 46 | 4.0 | 86.4 | 50 |
| 50 | 3.25 | 48 | 5.0 | 78.4 | 53 |
| 60 | 3.00 | 50 | 6.0 | 70.8 | 58 |
| 70 | 2.83 | 52 | 7.0 | 64.0 | 57 |
| 80 | 2.60 | 55 | 8.0 | 57.5 | 54 |
| 90 | 2.46 | 59 | 9.0 | 50.6 | 52 |
| 100 | 2.28 | 57 | 10.0 | 43.7 | 50 |
| 110 | 2.12 | 55 | | | |
| 120 | 1.97 | 53 | | | |
| 130 | 1.80 | 52 | | | |
| 140 | 1.60 | 51 | | | |
| 150 | 1.48 | 49 | | | |
* Supply Voltage: 13.8 Volts
FILL RATES
| 2.0 GALLON TANK | FILL RATE |
| --- | --- |
| 0 to 150 PSI | 1 min. 00 sec. (± 05 sec.) |
| 110 to 145 PSI | 20 sec. (± 03 sec.) |
| 37×12.5 | FILL RATE |
| 0 to 30 PSI | 3 min. 25 sec. (± 10 sec.) |
| 15 to 30 PSI | 1 min. 40 sec. (± 05 sec.) |
| 40×15.5 | FILL RATE |
| 0 to 30 PSI | 3 min. 35 sec. (± 10 sec.) |
| 15 to 30 PSI | 1 min. 45 sec. (± 05 sec.) |
| 235/80R16 | FILL RATE |
| 0 to 80 PSI | 3 min. 41 sec. (± 15 sec.) |
| 30 to 40 PSI | 16 sec. (± 03 sec.) |
| 40 to 50 PSI | 19 sec. (± 03 sec.) |
| 50 to 60 PSI | 24 sec. (± 03 sec.) |
| 60 to 80 PSI | 1 min. 02 sec. (± 05 sec.) |